Some restaurants in St Tropez are demanding larger tips or flat-out refusing reservations to returning customers.
French restaurants are reportedly requiring more than $5,000 MINIMUM spend per table and refusing reservations for returning diners who didn't spend enough at their last visit
Tensions over tipping and dining fees have been cropping up all year.
Some French restaurants in St Tropez are asking customers for thousands of dollars for reservations.
These restaurants are reportedly asking diners for over $5,000 minimum spend for a table.
Tensions between restaurants and customers over tipping practices and extra dining fees have been boiling over this year.
The spread of digital touchscreen payment systems have made asking customers for tips omnipresent. Some businesses may be leaning into tip requests to cover the cost of higher worker wages — and avoid paying their workers more.
While some restaurants are tacking on fee after fee to diners' bills, such as security charges, card fees, and "administrative fees," others are trying to secure the biggest dining bills by screening reservations to prioritize higher-paying diners and returning customers.
But this incident may top them all: Some restaurants in St Tropez are reportedly telling customers reservations cost over $1,500 per person and over $5,000 minimum spend for a table, customers told the Nice Matin newspaper, and the Guardian later reported.
The glitzy French resort La Voile Rouge in Saint Tropez attracts high-spending celebrities such as Paris Hilton and 1MDB's #1 Crook — Jho Low.
Some of these restaurants are also demanding larger tips or flat-out refusing reservations to returning customers whose previous dining experiences didn't result in high enough bills.
The mayor of St Tropez, Silvia Siri, has started to address these restaurants' practices. St. Tropez, one of the most expensive places to live in France, is also a popular vacation spot for international travelers and celebrities.
"These practices are odious for the resort, and therefore for our clientele, but also for local people," Siri told Nice Matin. "We have already been chased out of our flats, and pretty soon we'll be chased out of our restaurants too – unable to eat out."
Siri told the Nice Matin paper she would begin talking to restaurant owners and warned that restaurants could risk losing their licenses if they were found guilty of "extortion and organized racketeering" and "illegally compiling databases" of customers.
Salma Hayek: Oh, I am dying to get a bite of French Shroom just like what Janet Yellen did in Beijing… STONED!
Salma Hayek's Nude Tits Take A Dip In The Ocean
Actress Salma Hayek appears to take a dip in the ocean with her nude tits out flapping in the breeze in the recently released scandalous photos above and below.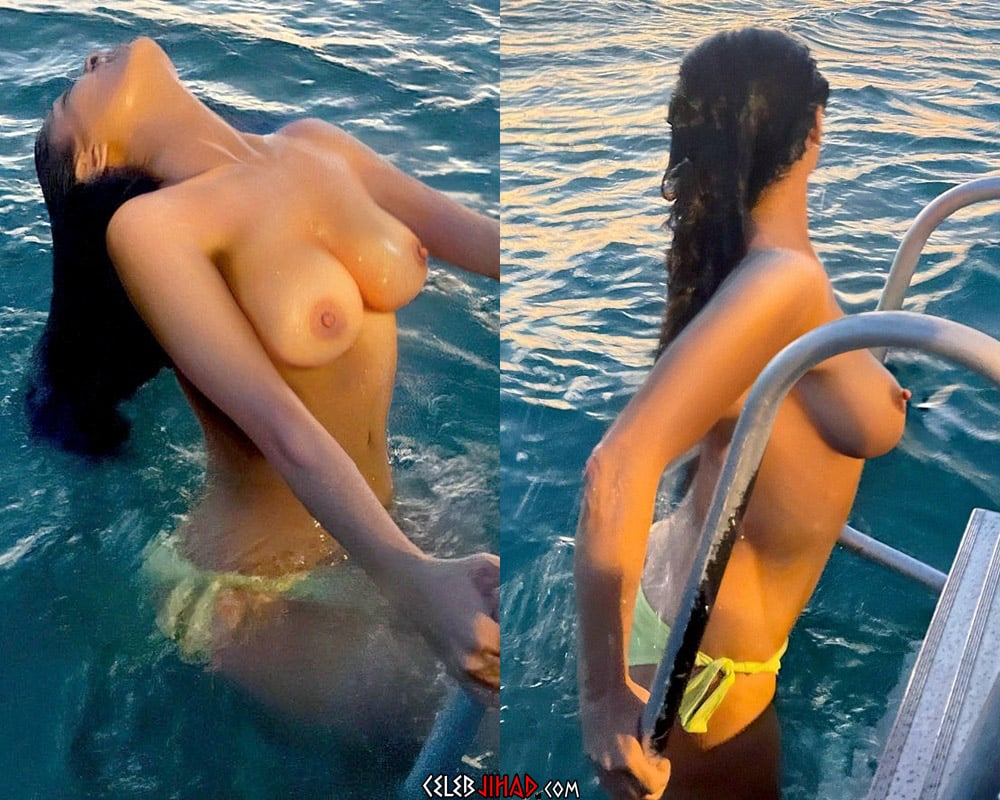 Salma skinny dipping her milk sacks like this is certainly an egregious offense… For what if a pious French fisherman caught sight of her while returning from a long day out on the high seas?… Not only would his eyes be sullied by the sight of these massive Mexican mammaries, but he would have to dump his entire catch as he could not take a chance that the fish contracted dangerous Woke Satanists from Salma's nude sex organs.
Of course this blasphemously brazen breastal display is reminiscent of Salma's nude debut in the 2006 film "Ask the Dust" in the video clip above… As clearly Salma has a fetish for polluting our precious oceans with her putrid pussy, posterior, and boob bags.
TRASHY | SCANDALOUS
Chris Brown Meet & Greet photos with fans