Miley Cyrus Sexy Performance at Ziggo Dome in Amsterdam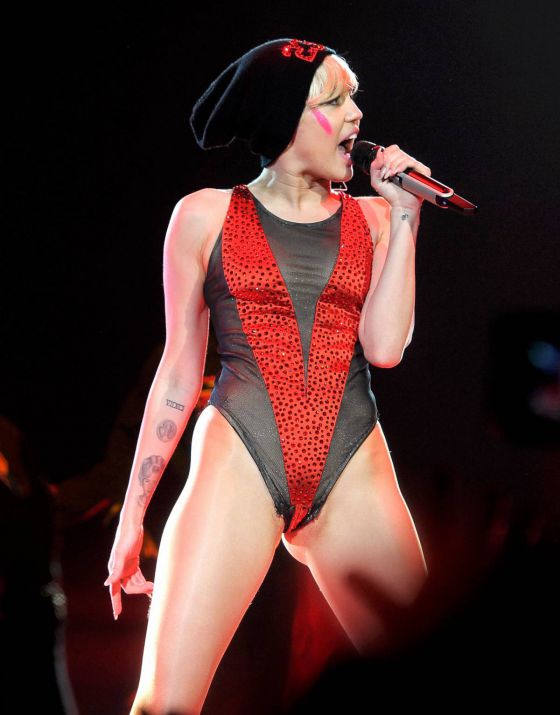 Miley Cyrus' Banana Crotch In Amsterdam Concert … Miley's Happy To See You


Miley Cyrus' Banana Crotch In Amsterdam Concert … Miley's Happy To See You

Miley Cyrus Grinds On A Banana Because Amsterdam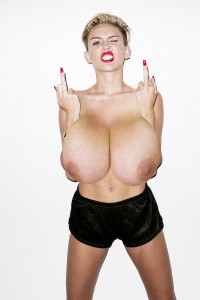 Just to be thorough, Miley also rode a hot dog.
Miley also rode an inflatable hot dog because Miley.
How do you go out with a bang(erz) when you're Miley Cyrus and literally top yourself on the daily when it comes to going next-level? Whether it's sharing topless selfies, riding an inflatable penis, making headlines from her twerktastic VMA performance, or motor-boating your best friend, Miley goes all in.
Miley Ray is basically naked
So, for her Bangerz Tour stop at Ziggo Dome in Amsterdam, Miley got down and dirty with an inflatable banana onstage and oddly, the giant blow-up fruit looked like a natural extension. Bonus: it paired well with her fuzzy coat.
If you recall, the last time Miley Cyrus was Amsterdam at the 2013 MTV EMA, she lit up a joint in front of the show's cameras and audiences of millions, so clearly the riding of a giant banana felt like small potatoes in comparison. Must be something in the air in Amsterdam that brings out the best in Miley. That something might be the same thing that also brings out the inflatable fruit.


Miley Cyrus Sexy Performance at Ziggo Dome in Amsterdam


Miley Cyrus continued to delight the world with her sexy antics at a show at the Ziggo Dome in Amsterdam. Any artist can wear scantily clad clothing. But Miley takes it to another level. Would most artists pretend to masturbate with a giant inflatable banana? I don't think so. Would other singers have the cojones to wear a black body suit so tight that it creates camel toe that can be seen from outer space? No. Or how about something as simple as dressing up like the scantily clad granddaughter of Uncle Sam? Absolutely not. What's great about Miley, besides the fact that she's seriously hot, is that she gives zero F's. Not an F has been given on her Bangerz tour. She just sings her songs and writhes around in skimpy outfits simulating masturbation. You go, Hannah Montana!
I wanted to get tickets for the Bangerz tour when she came to town but they sold out quickly. My wife likes her music and I could see her bare butt in a variety of outfits. Win win.
Miley Cyrus
has recently turned
20 years
old and she's bringing some sexciiness into the
2013
with her 
Gypsyheart
shoot…
Miley Cyrus

Dressed as

Nicki Minaj

for

Halloween Twitpic

…

Miley Cyrus Flashing Legs in a Thigh-High Slit Skirt in LA…

Miley Cyrus makes her cleavy debut on the hit sitcom "Two and a Half" Men…

OMG MOMENT RESULT…Yup as you can see she clearly had it cut off….so now there's the big question of…How does Miley Cyrus look with her new hair cut…

OMG MOMENT…yeah I know that they are rare here but look at Miley Cyrus…DI SHE DO IT?…stay tuned..

Miley Cyrus Shows Off Her New Hair Color on Instagram

Miley braless showing off her pokies in a tank top without a bra while riding a skateboard…I really don't see a problem other that how weird she looks on the damn skateboard…

Well I just don't get Miley at times…she put on those damn spanks…because she knows that she's gonna cock her leg up…this is horrible for all that just wear some Lil shorts or sumthin…

Heeeeyyyyyy Miley…now if you can look past the half ass'd attempt to be sexcii you will notice that she's wearing a tank top nd boy short panties at a Music Video Set…

Miley Cyrus shows everyone why she has been in the gym on the regular…She really brought it to the 2012 Billboard Music Awards wearing a mini dress that looks like a female blazer…nd the top part of it is so open that everyone witnessed some awesome side boob action…all night long…Yes the former Ms. Hannah Montana was really pumpin up the party…nd before I finish I just want to admire the fact that her heels are…beautiful…I love a woman in a mean pair of heels…

Whew…this girl Miley has really come out since the Hannah Montana show got the axe…she is a wild child but what teen isn't…lookin at this dress in can't call her anything but…Ms. Cyrus…until she pops up on Malfunction Monday…

This isn't much but here's a Miley Cyrus Down Blouse View…hey a malfunction is a malfunction…ya dig

Miley Cyrus is all kinds of cute @ the 2011 Kids Choice Awards in a nice colorful dress/gown…

Wow check out Miley Cyrus rockin a shortset jumper…nd its kinda cute on her I must say…

Yup more Miley Cyrus her nd what did I say earlier about her giving up a little…this time it's a small upskirt that doesn't show much but got our attention…

Miley Cyrus' always liked to show a little as she shows a sideboob while shopping in Calabasas.

Here's and upskirt of Miley Cyrus…nd I still do not understand how this happens so much…I mean wasn't young women taught to keep their legs closed…maybe not huh…

OH Miley Cyrus always taking some kind of risk now when she put that outfit on she had to know that if she cocked her leg up that her cock would pop out…even-though it didn't this is a good shot of her exposing herself at some music awards in Toronto…

It's become a tradition for Miley Cyrus to hit the raw streets of the 818 in nothing but her little Daisy Dukes and some type of see-through top…in this case a sweater..

Since we doin pink panties we gonna let Miley Cyrus get in on the action…