Which young celeb will be next to play peek-a-boob?

Welcome to the club, Miley!The "Wrecking Ball" singer has joined the ranks of Janet Jackson, Tara Reid and more. Less than two weeks after her provocative performance at the VMAs—where she twerked on married-man Robin Thicke in front of millions—the former Disney star is making headlines again.
While on a trip to France Monday, Miley's right breast made a special and unexpected appearance. Unlike many of the other celebrity nip slips through history, Miley's outfit wasn't all that revealing to begin with. But, unfortunately, the precariously placed cut outs on her top found themselves in a right-place-right-time situation that led to the wardrobe malfunction.
Though Miley's nip slip isn't the first, it certainly won't be the last. For now, let's take a walk down flashers lane …
Miley Cyrus
While her new music video for "Wrecking Ball" leaves very little to the imagination, this new photo alleviates the need for imagination altogether. While in France, fans got more than a wave hello from Miley. Even though this is just a glimpse of her right boob, based on her recent behavior we wouldn't be too shocked if her left one made an appearance sometime soon.
Mariah Carey
Back in February, Mariah's cup runneth over during her performance at the So So Def 20th anniversary concert. Like Miley, she didn't end up bare-breasted, but even a minor nip slip is still a nip slip.
Alison Pill
Alison recently clarified the circumstances surrounding last year's nudie-pic tweet. Long distance relationships can be tough—hers with ex-fiance Jay Baruchel not excluded. And sometimes you take bare-chested photos meant for each other. Usually said pics don't take a detour on Twitter first, but hey, a tech slip can happen to anyone.
Miranda Kerr
After all of her nude-photo shoots, are we surprised that she suffered a double nip-slip on the red carpet? Granted, when she's modeling Miranda's well aware of her state of dress, whereas here she momentarily forgot how the layering on her dress worked when she went to adjust her hair.
Nicki Minaj
Nicki gave the morning talk-show circuit something to talk about when she had a wardrobe malfunction during a GMA concert in 2011. She later squelched rumors that it was staged when she told ABC's Nightline, "I would never, ever do something like that on purpose."
Kate Middleton
Not even royals are immune to gravity's effect on clothing. While vacationing with her hubby, Kate's sense of privacy was taken advantage of when paparazzi snapped topless photos of the future queen sunbathing.
Khloe Kardashian
This one just goes to show that no matter how finely manicured your reality image may be, nip slips can happen to anyone. While doing an appearance with sis Kourtney on Fox and Friends, Khloe's right nipple stole the show for six whole minutes. When you're filming a segment for that long, shouldn't a producer say something?
Britney Spears
Oops, she did it again! This time the popstar showed more than intended when the sleeve of her green dress slipped, giving a glimpse of her right nip.
Lady Gaga
With all of her avant-garde costumes, maybe a Gaga nip slip was inevitable. At the 2011 CFDA Awards, her low-cut black corset dress wasn't enough to cover the girls. Not one to embarrass easily, later in the night she showed up to an after party wearing a sheer body suit, black nipple covers and a spiked G-string. Baby, she was born this way.
Jennifer Lopez
The Oscars are supposed to be an elegant event, but even a classy affair can't stop an inevitable nip slip. While J.Lo was announcing the award for Best Makeup with Cameron Diaz, we're pretty sure her nipple made an appearance.
Emma Watson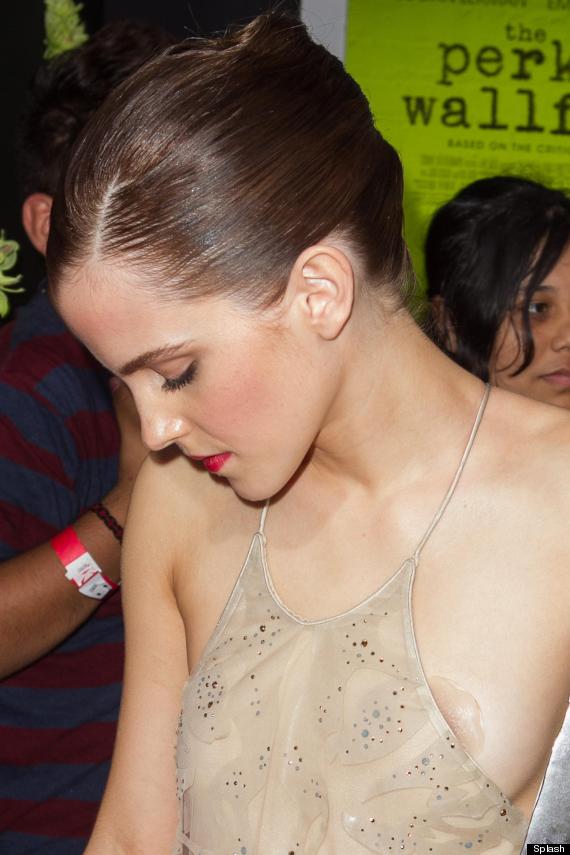 Emma suffered a nip slip while she was going for tasteful side-boob at her Perks of Being a Wallflower L.A. premiere. Based on her reaction, it's safe to categorize this one as an accident. When asked about the incident she said, "It doesn't show, but I was absolutely terrified."
Jessica Simpson
Taking a look back, it seems predestined that young pop stars get initiated into the nip slip club. Jessica Simpson, all smiles, is seemingly oblivious to her right boob gone rogue.
Kirsten Dunst
Sometimes bikini tops have a way of not doing their job after a big wave comes along. Maybe next time Kirsten will opt for a suit with straps.
Tara Reid
While arriving on the red carpet for P.Diddy's 35th birthday party, Tara gave an unexpected gift. Her slinky black Dior gown became even sexier after a strap fell down revealing her right breast for all to see.
Janet Jackson
Who can forget the Super Bowl XXXVIII halftime show in 2004? Janet Jackson and Justin Timberlake shocked the world on one of the biggest stages when there was a wardrobe malfunction. We'll leave it up to you to decide whether or not it was planned.