The ice breaker: Verónica Echegui on her role in new TV show Fortitude and living in London
Verónica Echegui has her first major role in celeb-packed show Fortitude. The Spanish actress tells Susannah Butter about filming in Iceland, life in London and playing games with Penélope Cruz
by Susannah Butter
The first time I encounter Verónica Echegui she is snogging another woman's husband in a shipping container. The real Echegui would never act in this way but nothing is taboo for Elena, her character in Fortitude, Sky Atlantic's new thriller set in the Arctic Circle.
"I'm OK with sex scenes," says the Spanish actress. "In my country all films have sex. It's horrible. What made this one funny was that it was so freezing. Elena connects with men through sex, which I found interesting. What is she seeking in these relationships?"

Echegui is stirring sugar into her huge cappuccino opposite me at Megan's café on King's Road. Her hair has grown out from her Fortitude pixie cut into a playful bob, which goes with her impish grin and the look in her dark eyes.


Fortitude, which had its UK premiere last night, has a hint of The Killing. It even stars Sofie Gråbøl. The action takes place in a tranquil Arctic Circle town that has been suddenly beset by an unsettling crime. Everyone has a secret; adultery, naked saunas and polar bears are rife, while making lunch involves decapitating a reindeer.


This is 31-year-old Echegui's first British TV series. Her character, an attractive secretary in hoop earrings and fur coat with a lot to hide, was originally Irish but Echegui says the script was so well written that she couldn't resist auditioning. She was in bed at home in Madrid with a hangover when she heard that she had got the part. "I had been at a party. I woke up and had a terrible headache but I saw the message and was like 'waaahhh' and my boyfriend [Spanish actor Álex García] went, 'what the hell is going on?' It was beautiful, we celebrated for three days."
She spent six months filming, the outdoor scenes in Iceland and the interiors in a studio in Hayes, west London. Fortitude cost £25 million to make, and a large chunk of that was spent shipping snow over from London to Iceland because it was unusually mild there.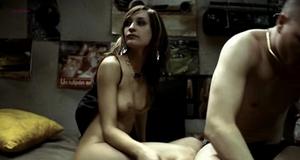 "Actors always say filming was fantastic," says Echegui. "The chemistry was great, blah blah blah, but in this case it was true. It doesn't happen often. There was not even a bad apple." She was particularly enthusiastic about working with Stanley Tucci, who plays an ex-FBI officer from London's Met Police, breezing in to solve the crime. "He is one of my favourite actors ever. He is hilarious. The first day he got us lost on the way to the gym. It was snowing, we were soaking, freezing. He knew he was getting me into trouble but he kept joking."
Michael Gambon, who plays a decrepit wildlife photographer, was also a hoot. She does an unnervingly accurate impression of the actor but says it is nothing on her colleague Richard Dormer's, who tricked Gambon's assistant into thinking he was in the room. Meanwhile young London actor Luke Treadaway is "a brain". "I couldn't understand him in the beginning because of the way he speaks. He has so many ideas."
Verónica Echegui
Fortitude is Sofie Gråbøl's first big role since she was treated for breast cancer but Echegui doesn't know about that — "Maybe she didn't want to talk about it." Working with Danish actors was a pleasure, she says. "Bringing actors from all around the world together is the future, it makes the work so rich."
Echegui grew up in Madrid. Her father is a lawyer and her mother a civil servant. "I wanted to be an actress since I was eight but my parents wanted me to study a career. My great-auntie was dying and told me I had to do what I wanted, although I must not tell my mother." She caught the eye of Spanish powerhouse director Bigas Luna, who discovered Penélope Cruz and Javier Bardem. He cast her as a girl from the wrong side of the tracks in My Name is Juan, for which she won multiple awards.
Comparisons with Penélope Cruz are inevitable. "We have met, we have friends in common and play a game of deception together called Wolves. It is similar to Fortitude — we imagine we are a community, some people are wolves and the rest are villagers. You don't know who is a wolf. It is funny. I can act but I cannot lie." Is Cruz good at it? "Yeah." Echegui is "so pleased" when people mention them together. "She is amazing, so sweet and has worked hard to get where she wanted."
On the way up, Echegui worked as a waitress, including a stint at a café in Camden Passage, Islington, and as a dog-walker. "That was stressful. One dog died while I was walking it. It was terrible telling the owner. I thought 'OK, I'm not going to do this any more'."
At the moment she is staying with a friend in Brixton, discovering the food market, but she first got to know the city when she spent a summer here filming Bunny and the Bull with Noel Fielding in 2008.
"Hampstead Heath is my favourite place, I love the ponds, although it is so funny that they have different ones for men, women and mixed." She was brave (or mad) enough once to try roller-skating down Oxford Street too but has not attempted it again.
England offers more opportunities than Spain, she says. "There are so many more shows. In Spain we used to have not a huge industry but a good one. Now there is more happening and more people are trying to do projects that are more commercial but with a good script. Last year a record number of Spanish films were made."
The political situation in Spain is changing too, after economic crisis in 2008. "There is the rise of a new movement in Spain called We Can [Podemos], based on a citizens' union. The man ruling it is a university professor. Politics is business but he is new, so at least it will be different. It would be amazing if he won the election. The group is really for citizens, so if you want to be involved and propose things you can."
She is hoping for a second series of Fortitude but in the meantime her schedule is full. She's off to Budapest to film, then to Los Angeles for an American thriller, Hunter's Prayer. In between she will try to see her boyfriend as much as possible. "I think he is the only actor boyfriend I have had. We met doing a film and it was a love story. He is the love of my life, such a nice man and very talented." They have been going out for four years and juggle their work with as many trips to see each other as possible.
When she turned 30, she says, people started asking her about children. "It is so weird, everything becomes about maternity. You start asking yourself whether you want to be a mum. I want to but now my life is so unstable and I don't think that is good for a baby."
She is not rich yet. "I have to turn work down because doing the wrong project can be tiring. You have to be calm and take decisions from the heart, not from fear, even though it is not easy. Sometimes you have no money and you are just hoping something will work out. But I when I do a project that really makes me tremble I am so happy."