One coach's nightmare—sending his wank video to female players
Don't misclick your private pics.
by Nate Anderson
Sometimes one wrong click really can change your life.
Take the case of Jeffrey Sirois. At 3:30pm on the afternoon of September 25, 2014, the 57-year old soccer coach and grocery store owner unbuttoned his blue jeans. Sitting on the brown suede love seat in the living room of his Lebanon, Connecticut home, Sirois held his smartphone at arm's length as he masturbated, recording a 10-second video clip of the act. Sirois sent the clip to his girlfriend, using the ephemeral messaging service Snapchat. He waited for confirmation that she opened the video on her own phone.
Wanking Break with Cerina Vincent 
And her friend 
Phoebe Cates in…
Fast Times At Ridgemont High
This scene is pretty iconic in the coming of age film genre. That said, this particular video clip is super censored. It's funny that I have to suffer through seeing a guy slappin the salami but I can't see a pair of boobs. Okay.

The Wanking Scandal Continue …
One coach's nightmare—sending his wank video to female players
But no confirmation came. After several moments of waiting, Sirois wondered if he had made a mistake.
He checked his Snapchat history and realized the awful truth: instead of sending the message only to his girlfriend, Sirois sent it to all 30 people on his contact list, including at least six high school girls from the soccer team he coached at nearby E.O. Smith High School.
Sirois quickly removed the video from Snapchat. Given that it was live on Snapchat's servers for just 15 seconds, Sirois hoped that he avoided any of the life-altering consequences that might flow from such a mistake. He waited to hear from any of his players; no one got in touch. Four o'clock passed. Four thirty. Five o'clock. Perhaps he was in the clear.
At 5:10pm, the phone rang. On the other end was E.O. Smith's athletic director, Steve Robichaud.
"Do you need to tell me anything?" he asked.
Unintentional
At the moment Sirois sent his video clip, a group of varsity soccer girls were gathering for a post-school snack at Husky Pizza, a local joint a few hundred yards away from E.O. Smith. One of the girls, Elizabeth (not her real name), had her yellow iPhone 5C on the table. The phone notified her that she had a waiting message from "Coach Sirois." She friended him through the service two weeks earlier, and Sirois had sent only a handful of images so far—mostly himself in soccer jerseys. Elizabeth expected more of the same when she immediately clicked on the video message.
"I only watched about three seconds of the video and I realized what was going on," she later told a Connecticut State Trooper investigating the case. "Once I realized what I was watching I threw my phone down on the table and said, 'Guys, you have to look at this'… We were all shocked by what we saw in the video and were talking about it."
At the same moment, another varsity soccer player was "messing around with my phone" in her grandmother's home across town. She saw the same Snapchat story from Sirois' account. "When I saw it I freaked out," the girl told investigators. "I only looked at the video for a second before I shut it off… Coach can make people uncomfortable at times because he can be creepy or weird." But, she added, "He has never touched me or said anything inappropriate to me."
The Sirois video wasn't viewable for long. When another of the girls at Husky Pizza checked her own Snapchat account three minutes later, the video had disappeared. Sirois unfriended the girls on the soccer team shortly thereafter.
Elizabeth sent around a group text to teammates saying, "Coach's Snapchat Story?" The players at Husky Pizza sat shocked, wondering what to do. After several texts and phone calls, the girls at the pizza shop decided that someone had to be told. They made their way back across the street to E.O. Smith, where they found the girl's varsity volleyball team in mid-practice. They told the coach, Gail Murphy, what happened. Murphy immediately called the school's athletic director, telling him that she had several students with her in the gym who said they just saw Sirois "touching himself on a Snapchat video."
Robichaud, the athletic director, called the principal, then the girls' parents, and finally Sirois himself.
"I would have never sent anything like that intentionally and it's been deleted," Robichaud recalled the coach telling him. He added that Sirois "did not appear alarmed or apologetic." Sirois was told not to return to school until the matter was settled.
Total recall
Connecticut State Police troopers were on scene at E.O. Smith by 9:00am the next morning to investigate. The case didn't take long. At noon, a pair of detectives dropped by the business Sirois owned, the Lebanon Green Market. One of the detectives asked, in classic cop fashion, if Sirois knew why they were there.
"That thing at E.O. Smith," he replied.
The detectives asked for Sirois' HTC mobile phone and showed him a DPS-167-C form, which provides "Consent to Search and Examine Evidence" in the absence of a warrant. He handed over the phone and signed the form.
At 1:00pm, they all went to the local state trooper office, where Sirois signed a graphic—and one assumes, embarrassing—statement explaining that he had made a video in which "my penis was exposed and it was kind of a close up view of my genital area." Though local news accounts note that Sirois is married, he wrote in the statement that his video was intended for "my girlfriend [name redacted] from [town redacted]. It is something that she and I occasionally do. To my knowledge [she] never saw the video."
Sirois then wrote about realizing his terrible mistake and how he had "removed the video about 15 seconds later. To my knowledge the only people who could have seen this would have been people in my group who had their phone in their hand during that 15 seconds. I hoped that no one saw this."
State police let him go after that, but they would soon demand more details. Two days later on September 28, a pair of troopers showed up at his home and asked to have a look at the "area where he performed the masturbation act and video taped it on his cellular telephone." Sirois agreed, taking them to a pair of matching brown suede love seats in his living room and pointing out the one against the southeastern wall. The troopers had some remarkably specific questions, including whether Sirois had set the phone on a stand to make the recording (he had not), which hand he had used for the deed (he could not recall), and what was playing on the TV in the background as Sirois masturbated (he could not recall).
His answers hardly mattered, however. Snapchat, though pitched as a tool to control the viewing and distribution of images and videos, isn't particularly adept at this job. The day after Sirois showed state police around his living room, a forensic examiner in Vernon, Connecticut had no trouble pulling 293 videos from Sirois' phone. State police, going through them, soon found video #292—which appeared to be the very video sent to the students at E.O. Smith.
In the days before such widespread forensic evidence existed, extremely specific details were often impossible to pin down with certainty. But in a world in which so much is recorded and preserved—even after being "deleted"—an organization like the Connecticut State Police can determine the exact state and color of Sirois' abdominal hair, the erectness of his member, and whether or not he was circumcised. All of that information was eventually included in the publicly available arrest warrant. (Connecticut journalist David Owens, who has covered the story for the Hartford Courant, graciously provided Ars with a copy of the warrant obtained from the local courthouse.)
As for which hand Sirois used? Well, the cops know that, too—it was the left. In today's logged, recorded, and monitored digital age, "I cannot recall" is no longer an impediment to uncovering even the most embarrassing or trivial details.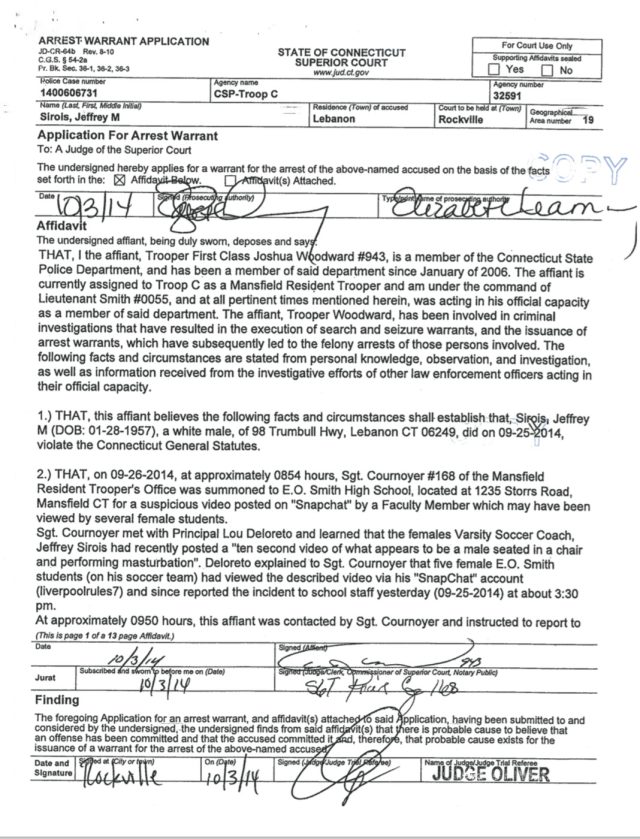 Enlarge
/
The first page of the Sirois arrest warrant.
Under arrest
Eight days after the girls at Husky Pizza received the unexpected and unwelcome video, an arrest warrant was signed by a Connecticut state judge and Sirois was picked up by police. He was charged with "Risk of Injury to Child"—a felony—along with two misdemeanor counts each of obscenity and breach of peace. Court records show that he secured a $100,000 bond and was released from custody.
He soon plead not guilty to the charges, but E.O. Smith fired him from his coaching job anyway.
Local TV station WTNH sent a reporter out to the Sirois home after the news broke. "It's a horrible situation and I really can't comment any more than that," said his wife, Marilu. However, she kept answering questions.
We asked, "Did your husband do this?"
She answered, "I don't know."
We continued, "He hasn't talked to you about it?"
She answered, "No."
We then said, "So you're going through a tough time."
"Yes," she said.


Enlarge / The docket entry for the first case against Sirois, showing the five charges against him.
Though Sirois' life might appear to have collapsed at this point, it had not in fact bottomed out. Two days before Thanksgiving, he was arrested again for "tampering with a witness," another felony charge. According to sources speaking to the Hartford Courant, the tampering charge "relates to Sirois' alleged attempts to have his girlfriend not talk to state police investigators."
Sirois has yet to enter a plea in the tampering case but did pay a $5,000 cash bond; he is due back in court later this month to deal with both cases. He did not respond to questions from Ars sent through his attorney.
A lack of friction
The Sirois story is unusual, but its underlying behaviors aren't so odd.
Start with sexting. Solid statistics on the practice are hard to find; most come from security firms with products to peddle. The Pew Research Center has done admirable work on relationships in the Internet era, however, and its February 2014 survey showed that sexting is well on its way to becoming an all-American activity. 12 percent of all smartphone users in America have sent a sext, while 27 percent have received one. Though such material is exchanged most by those in their twenties and thirties, 15 percent of all cell phone owners ages 45-54 have also reported receiving a sext.
As for sexting the wrong person, that too is a fairly common danger of over-excited smartphone use.
Accounts of sexy messages gone awry are legion; the phenomenon is common enough to inspire advice columns on how to recover after such an event.
And when it comes to commingling all the spheres of one's life within a single phone or even a single app, the process happens enough to have transformed enterprise IT departments around the globe, where workers routinely expect the ability to BYOD ("bring your own device") rather than relying, say, on a separate company-issued smartphone. For millions of Americans, social media apps like Facebook, instant messaging clients, or SMS apps are littered with both personal and professional contacts. Mis-clicks are bound to occur—though they won't often result in sex clips being sent to a girls' soccer team.
Digital technology has so lowered the effort needed to move from impulse to act that even terrible ideas can be executed in a heartbeat, only to be disseminated and regretfully reflected upon later.
Mistakes like the one made by Sirois were much harder to make in previous eras. Imagine sitting on your couch one day, pondering a bit of amateur pornography but having first to dig out the camcorder, set it on a tripod, and find a blank VHS tape. Afterwards, imagine taking down the whole assembly, putting the tape in a large envelope, addressing it, and driving to the post office. The whole process provided more time to catch any mistakes—and to consider the entire decision before popping the parcel in the post.
Not that the past was some kind of golden age. Sharing information consumed significant time, and much of it was spent on such mundane tasks like addressing letters or looking up phone numbers in telephone books. Because of the speed and cost of these older analog processes, people generally checked for updates less often (after all, the postman only comes once a day). Today, 25 or 50 update checks a day is nothing, even for those who only use e-mail. Looking at social media can happen far more often, especially for heavy users who are often conditioned to respond every time their phone, laptop, or tablet emits the telltale "ding." In this case, the students at E.O. Smith lived such connected lives that even 15 second wasn't enough for Sirois to undo the damage by killing the Snapchat post.
Combine sexting, commingled social media accounts, and the frictionless nature of digital communications, and the real surprise is that incidents like the Sirois case don't happen more often.
Cerina Vincent – Not Another Teen Movie, Stuck In The Middle

Female masturbation complete with a hand painted vibrator. What can get better than that? I mean, aside from the whole damn block deciding to walk in on you.