Dude Behind The Alleged Biggest Wall Street Fraud… Metaverse Avatar Wannabe Jensen Huang seeking cheap publicity trying to project he's a humble guy by sampling some street food in his hometown — Taiwan, China.
Declaration: We're not impressed with this "corporate scammer" as he's implied he's NOT Chinese, or he's at least implied Taiwan ISN'T China and even REFUSED to speak Chinese when he was visiting Taiwan (he was there to receive a toilet paper entitled "Honorary PhD" issued by Traitor Separatist President Tsai Ing Wen) … Jensen's action & attitude are considered "treacherous" to the Red Patriots… Lest We Forget!
MAJOR AI FRAUD SCANDAL UNCOVERED
For real?
You bet… Founder of this site personally has all his alerts to folks on the AI Scam censored by MSM like Yahoo Finance, see how the removed even lame comment by Space Guru Michio Kaku who commented AI is just a 'Glorified Tape Recorder' and people's fears about it are overblown…
Exhibits:
See how they censored all my comments (those touching on scams promoted by Yahoo) below:-
Sorry folks, we did try to warn ya, but was blocked by the cabal… In any case, expect NVidia to tank to become a penny stock in the near future (it really doesn't have much substance)…. Check this out:-
NVDA: Fraud, Revenue Misrepresentation And Insider Selling
Thesis Summary
NVIDIA, Inc (NVDA) reported a Q2 earnings beat, which I recently addressed in this article. However, I feel compelled to write another piece in light of all the information (and speculation) that has come to light in recent days.
The last Q2 results show that part of NVIDIA's Q2 revenues come from contracts that have not yet been paid. Furthermore, the 10-Q filing also mentions specifically as a risk factor that a lot of the Q2 revenues are attributable to 1-2 clients.
One of these large clients could be CoreWeave, a start-up, partly funded by NVIDIA, which recently received a $2.3 billion line of credit using NVIDIA's H100 as collateral. CoreWeave is mostly funded by Magnetar, a hedge fund best known for aiding in the proliferation of CDOs during the Great Financial Crisis, while also actively betting against the housing market.
To top things off, NVIDIA's CEO and CFO have recently sold shares, and insiders at CoreWeave are also looking for a payday.
We have evidence to support the idea that NVIDIA's Q2 revenues were overstated, at least to the extent that some of these services have yet to be delivered, and that there is significant risk from demand being quite concentrated.
Beyond that, one could argue that NVIDIA is complicit in a plan to create the illusion that demand is higher than it is. (I am not) The fact that H100's are being used as collateral to fund their purchase shows that, at least to some degree, this AI chip demand is being driven by speculation.
More revenues at no extra cost?
The analysis below is an extension of the work done by Kashiap Siriam, who addressed these issues in a thread last week, and I who had the pleasure of speaking to recently.
When a company sells goods, like microchips, it must wait until these are delivered to record them as revenue. However, services can be charged before they are completed, and this is exactly what NVIDIA has done.

The extract above is from NVIDIA's 2022 10-K report, and it clearly states that the company recognized the revenue as a "single performance obligation over the period in which the development services are performed".
In other words, NVIDIA can count the revenue as soon as the deal is closed, even if payment hasn't been received and the services are ongoing. These License and Development Arrangements fall under the Data Center segment, which is, of course, where we have seen the explosion in revenues.

Data center revenues grew over 80% QoQ, but we also saw a quarterly increase of $3 billion in Accounts receivable.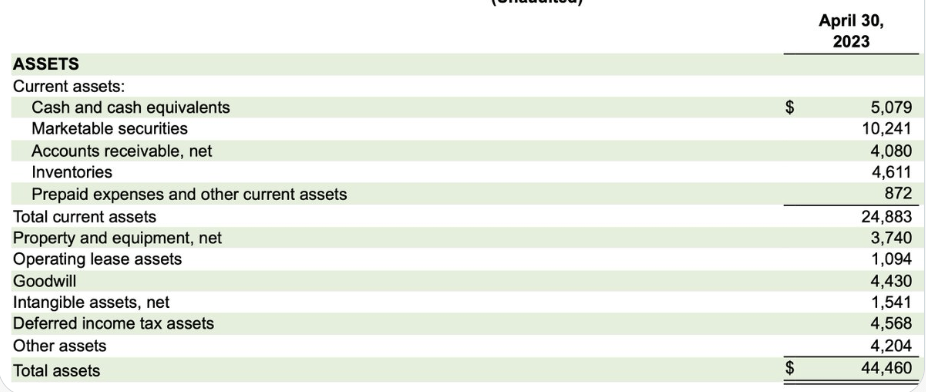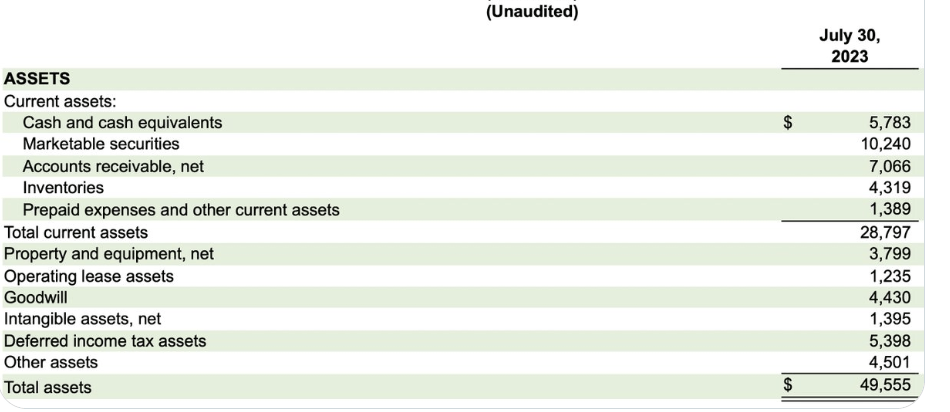 We went from $4,080 million in April, to $7,066 in July and this explains a couple of things.
Firstly, it explains why margins expanded. The company recorded revenues for a "service" it has not been paid for, and likely hasn't delivered either.
Is there anything wrong with this?
Traditionally, there shouldn't be an issue with what NVIDIA is doing here. It's a matter of accounting. The company has recognized the revenues on the income statement, but it also recognizes that it doesn't have cash on the balance sheet.
At some point in the future, the company will receive the cash and deliver the service. That's what you would expect in most instances. However, there are a series of factors that make this particular situation, in my opinion, a lot more risky than normal.
For starters, what is the distinction here between a service and a product? As far as I understand, NVIDIA's "services" have a large component that relies on the chips they manufacture.
Supply of semiconductors have faced issues before, and could again in the future, which is acknowledged by NVIDIA itself:
We build finished products and maintain inventory in advance of anticipated demand. While we have in the past entered and may in the future enter into long-term supply and capacity commitments, we may not be able to secure sufficient commitments for capacity to address our business needs or our long-term demand expectations may change. Additionally, our ability to sell certain products has been and could be impeded if components from third parties that are necessary for the finished product are not available. This risk may increase as a result of our platform strategy. In periods of shortages impacting the semiconductor industry and/or limited supply or capacity in our supply chain, the lead times on our orders may be extended. We have previously experienced extended lead times of more than 12 months.
Source: Q2 Earnings
From the supply side, there is a possibility that NVIDIA could face delays, which could further delay payment.
From the demand side, though, the problem is even worse, due to the fact that demand is concentrated and also the terms of NVIDIA's deals.
A large CSP, which primarily purchases indirectly through multiple system integrators and distributors, is estimated to represent approximately 22% and 19% of total revenue for the second quarter and first half of fiscal year 2024, respectively, and was attributable to our Compute & Networking segment. Our estimated Compute & Networking end customer demand is concentrated among several large CSPs and consumer internet companies. Most of these large companies do not purchase directly from us but often purchase through multiple system integrators, distributors, and channel partners. We expect this concentration trend will continue…
Source: Q2 Earnings
Around 20% of revenues are coming from just one partner. But it gets worse;
In the future, these partners may decide to purchase fewer products, not to incorporate our products into their ecosystem, or to alter their purchasing patterns in some other way. Because most of our sales are made on a purchase order basis, our customers can generally cancel, change or delay product purchase commitments with little notice to us and without penalty.
Source: Q2 Earnings
Does that mean, hypothetically, that a large client could cancel an order of close to $3 billion without notice or penalty?
If some deals fall through, we could get a nasty surprise. Essentially, there is a risk of an impairment loss at some point in the future.
By itself, all of the above isn't necessarily a reason for concern. NVIDIA chips are in high demand, and there will be buyers for the product, right?
But the plot thickens.
What is Core Weave?
The relationship between CoreWeave, NVIDIA and Magnetar was exposed by Nobody Special on a Youtube video series on the 31st of August.
CoreWeave is a specialized cloud provider that essentially rents out GPUs. The company was founded back in 2017, and was originally an Ethereum miner. A transition to renting out GPUs makes sense, since mining alo requires the same inputs.
But here's where things get interesting. CoreWeave is partly funded by NVIDIA, though it's largest backer is Magnetar. Last month, CoreWeave, a relatively small and unknown start-up, secured $2.3 billion in funding from the likes of Coatue, DigitalBridge, BlackRock, PIMCO, and Carlyle. How? By putting up NVIDIA's H100s as collateral. H100s which it will buy with said line of credit.
If you think this is an unusual operation, that's because it is. Semiconductors are depreciating assets. They are a tech product, and every year companies work to sell better and improved versions of their chips.
Granted, as of right now, NVIDIA chips are in high demand. Indeed, some of their earlier models are selling at similar prices a year later. But is this sustainable?
CoreWeave has secured $2.3 billion in funding. If the company is indeed renting these out as it advertises, at a cost of under $5 per minute, it would take years to recoup the costs.
Even if the company can turn around and re-sell them at a profit, one thing has to be acknowledged here; On a certain. level demand for these chips is being driven by speculation. The only way CoreWeave's funding makes sense is if they are indeed betting on the chips appreciating in value.
With that said, it's also worth paying some closer attention to one of CoreWeaves main supporters, Magnetar Capital
What Is Magnetar Capital?
Magnetar Capital led CoreWeaves $2.3 billion funding round. This hedge fund is not exactly new to the game, and has a pretty colorful history.
Magnetar was known ahead of the 2008 financial crisis for dealing on mortgage-backed securities. Magentar owned many of what we know now were high risk CDOs, but it was also betting against its own investments. This came to be known as the Magnetar Trade
According to bankers and others involved, the Magnetar Trade worked this way: The hedge fund bought the riskiest portion of a kind of securities known as collateralized debt obligations — CDOs. If housing prices kept rising, this would provide a solid return for many years. But that's not what hedge funds are after. They want outsized gains, the sooner the better, and Magnetar set itself up for a huge win: It placed bets that portions of its own deals would fail.
Source: Propublica.org
Furthermore, there is speculation that Magnetar actually pressed for riskier assets to be included in their CDOs, making them even more likely to fail.
Once again, it's hard to say with certainty whether Magnetar was doing anything wrong, and they were never fined by the SEC.
Insider selling
To wrap up this sequence of events, we should also mention the recent insider selling activity.
For starters, Colette Kress sold nearly 5000 shares last week. Even more recently, CEO Jen-Hsun Huang sold 237,500 shares. Insider selling by itself, doesn't necessarily mean anything, but all these small things are adding up in my mind. And it's not just NVIDIA insiders selling. It looks like CoreWeave investors are also looking for a payday.
For one thing, CoreWeave is apparently already looking to raise funds at an $8 billion valuation. And, on August 31st, it was announced that CoreWeave had hired Morgan Stanley (MS) to help sell $500 million of employee shares.
Making Sense Of It All
Some of the issues discussed here are complex, so let's take this by parts.
Regarding NVIDIA's revenues, I don't think there's any legal wrongdoing. The company is in its right to recognize its revenues in this way, due to the fact that it is providing specialized software, which can be regarded as a service.
With that said, let's forget that NVIDIA was fined by the SEC in 2017 by not properly disclosing that much of its revenue was coming from the sale of GPUs to crypto miners.
Even though I don't think NVIDIA is doing anything wrong, I think there might be some hidden risks here.
NVIDIA is claiming revenues in advance, and these could lead to an impairment charge in the future. We already know supply is tight, and NVIDIA could fail to deliver. On the other hand, as shown by the terms of their deals, NVIDIA's clients have a lot of leeway when it comes to modifying the terms of their purchase agreements, so that is also a risk factor.
Another issue is the high concentration of revenues in one and two clients. This is never great, as diversification is better. Now, we could speculate that some of these large CSPs are actually a conduit through which NVIDIA is selling to China. NVIDIA faces some restrictions when it comes to what it can export, but I think the company could be avoiding the Chinese sanctions by going through third parties.
In any case, this is not great either. China is a customer that NVIDIA would prefer not to sell to, while China is likely a client that would much rather not be so reliant on NVIDIA. This is a problem I already discussed in my last article.
Moving on to the issue of CoreWeave, we must at least acknowledge that there is some degree of a conflict of interest, as NVIDIA is an investor in one of its largest clients. Furthermore, this could also be the case with other investors in CoreWeave, like Blackrock, who also has exposure to the NVIDIA price. There would definitely be a financial incentive to facilitate higher revenues for NVIDIA, especially when the company currently trades at such high multiples. Even a small change in revenues, like $1 or $2 billion, which incidentally create an earnings beat, could have a much larger impact on the valuation.
The issue of the loan backed by H100s is debatable. This is an unorthodox transaction, though we live in unorthodox times. I will say though that, historically, the semiconductor industry has been subject to market supply/demand cycles. There's some reason to believe this time is different, with the advent of AI. But is it?
Once again though, this strange behavior in CoreWave could be explained by the Chinese sanctions. CoreWeave could also simply be a channel by which NVIDIA chips are getting into the hands of the Chinese, who could be renting them from CoreWeave, or perhaps even be looking to buy out the company in the future.
When it comes to Magnetar, given its history, one can't help but wonder if they are also playing the other side of this trade. i.e shorting NVIDIA.
And in terms of insider selling, well I don't think it's ever a great sign. Sure, Jensen Huang probably has many more shares, but it could still be argued that it is contradictory for him to sell, given how he believes we are in a new age of AI.
Final Thoughts
All in all, after adding all these risks to the already high valuation, I am moving my NVIDIA rating to strong sell. As per my last article, I think the stock could drop 40% from here.
Analyst's Disclosure: I/we have a beneficial long position in the shares of NVDA either through stock ownership, options, or other derivatives.
Is Nvidia a Scam? Uncovering Massive Fraud
The video discusses allegations of fraud and scam surrounding Nvidia…
Nvidia Stock: The World's Biggest Scam?
Sharon Stone & Ellen DeGeneres: Another day, another scam except this one is God Tier Scam. The U.S. is already a hopeless Degenerate… sigh.

Sharon Stone & Ellen DeGeneres' Nude Lesbian Sex Scene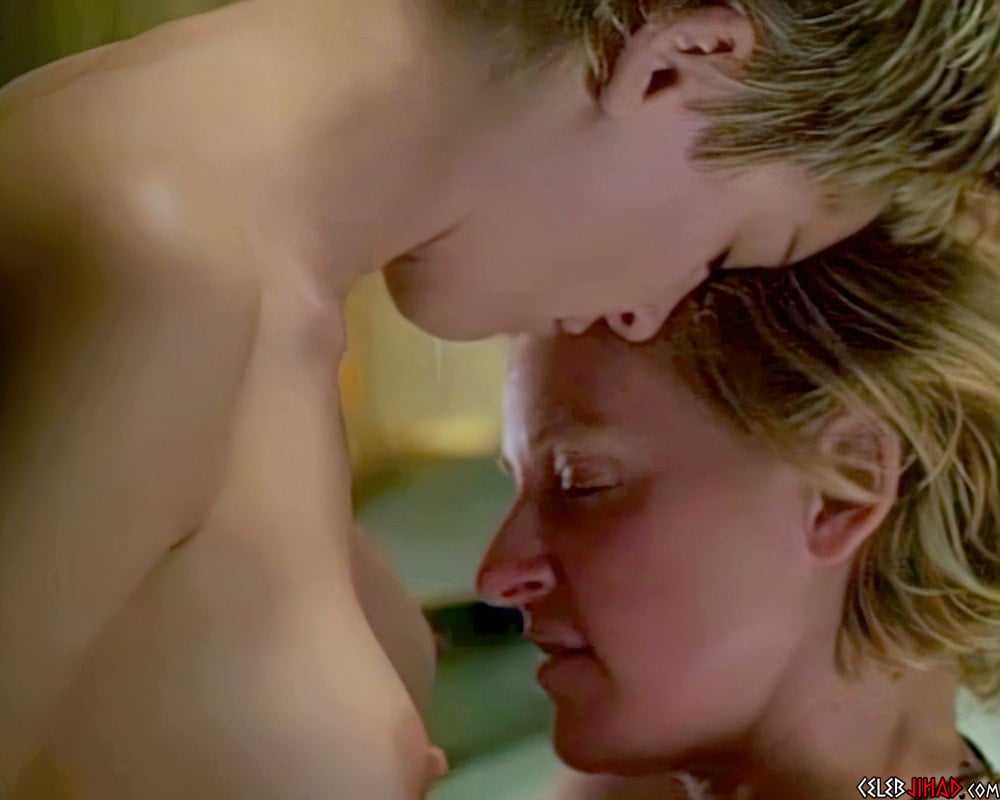 The video below features actresses Sharon Stone and Ellen DeGeneres' nude lesbian sex scene from the 2000 film "If These Walls Could Talk 2" remastered and enhanced in high definition.
If the walls in Ellen DeGeneres' bedroom could talk there is no doubt that they plead to be put out of their misery, as they can not take any more of the constant lesbodyke bickering and hardcore fisting makeup sex that is constantly going on.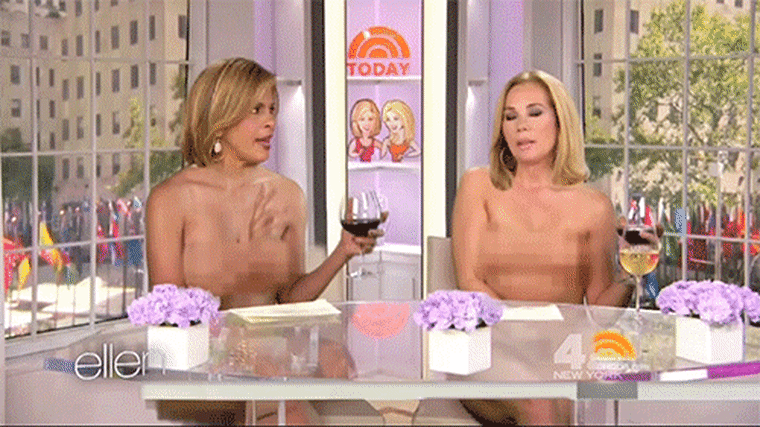 Of course those unlucky enough to work on the production of this film left with a nasty taste in their mouth (both literally and figuratively), as this scene reportedly took over 3 hours and 400 takes to get right… As Ellen and Sharon kept constantly going off script and engaging in ever increasingly depraved lesboqueer behavior… Eventually even trying to move-in together and adopt a dog, before the director finally had enough and turned the hose of them to get them to cool down.

TRASHY | SCANDALOUS
Can't Hold Her Back
Heart-shaped box
Lmao drinking games

Happy campers