Scout Willis grows armpit hair and flashes nipples as she goes braless at London exhibition
Bruce Willis' daughter had a lot on show in a skintight dress at the event on Thursday

Scout Willis with hairy armpit
Scout Willis is a known advocate of the Free The Nipple campaign, and she may now be putting the spotlight on female body hair.
The daughter of action movie veteran Bruce was spotted at her London art exhibition on Thursday and seemed to have been making a statement.
The star appeared to have grown out her underarm hair, with a dark patch visible under the line of a very revealing dress.



More obviously, she flaunted her body as her boobs were almost on full display in the skintight, almost see-through gown she wore for the occasion.
Scout went braless in the nude-coloured dress, which ran down to her ankles and was teamed with black booties as she stepped out at the Impossible 8×8 exhibition, which included her own work.
She has been vocal about the Free The Nipple campaign in the past, writing an article for oxjane.com last summer in which she discussed her feelings on the issue.
Scout Willis goes braless at Nylon party – braless celebs – going braless
She wrote: "I am not trying to argue for mandatory toplessness, or even bralessness.
"What I am arguing for is a woman's right to choose how she represents her body — and to make that choice based on personal desire and not a fear of how people will react to her or how society will judge her.
"No woman should be made to feel ashamed of her body."

#FreeTheNipple – Scout Willis marched topless down the streets of New York City
She joins the likes of Chelsea Handler, who has also hit out at female censorship and protested when a photo challenging Vladimir Putin was removed from Instagram
She posted a topless snap on top of a horse, mimicking the Russian President's original – before hitting out at the social media site when it was banned, stating if men could be topless, why not women.
As protests go . . .
. . . this beats the heck out of that "Occupy" horsesh*t:
Apparently Scout Willis, the less lantern-jawed offspring of Bruce Willis, decided she was tired of the hypocritical censoring of her occasional exposed girly bits on Instagram, so she took to the streets of Manhattan topless (because it's okay to stroll around topless in NYC . . . who knew?) and posted the images to her Instagram account:
Clever girl. As protests go, I think I can get behind this one 🙂
Scout's sister Rumer attended some function in support of her little sister's Free the Nipple campaign wearing a booby t-shirt. Personally, I like it when she's supporting it for reals:
Topless Activist, Tallulah Willis, Helping Your Breasts
Scout Willis Protests Instagram Ban By Going Topless In NYC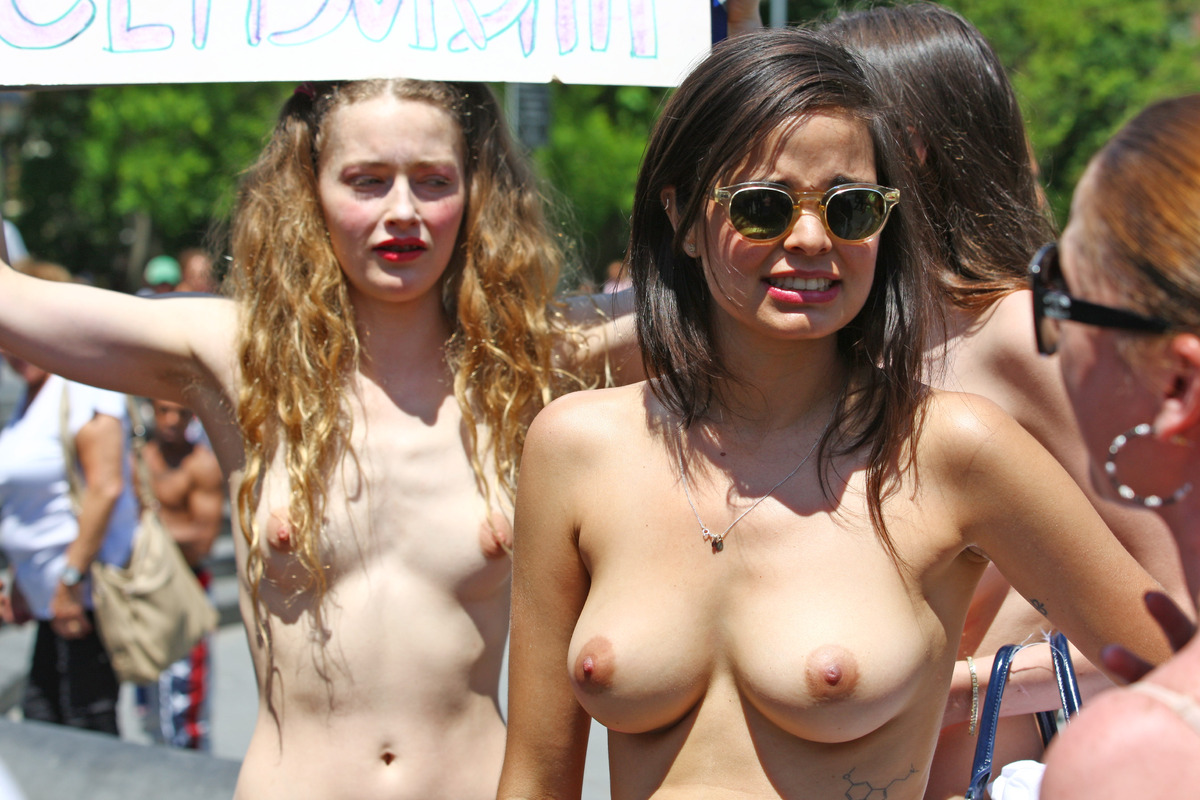 Demi's daughter with Bruce Willis, Scout Willis, recently grabbed headlines for her protest against instagrams's no nudity policy. How did she do it?