Rachel Brosnahan on "House of Cards," "Manhattan" and working on "The Dovekeepers" with Kathryn Prescott
By Trish Bendix
Rachel Brosnahan first piqued our interest when her House of Cards character, Rachel Posner, took an interest in a friend she met on the bus. Rachel and Lisa's friendship quickly turned romantic, which caused major drama for the couple in Season 2, as Rachel's involvement with the politicos of D.C. kept her from fully committing, and ended with her breaking things off and ultimately disappearing after killing her captor, Doug Stamper.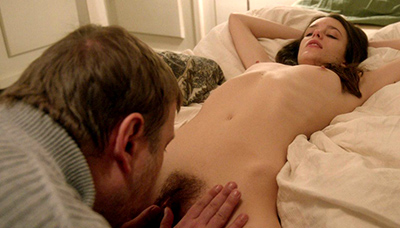 Or did she?
With
House of Cards
returning to Netflix on February 27, we're hopeful Rachel will be a part of it, though she can't tell anyone
anything 
just yet. But while we were waiting for Season 3, we also got to enjoy the actress on WGN's 1943-based drama 
Manhattan
, playing Abby Isaacs, a wife and mother whose meeting of another woman named Elodie turns her life upside down. While they make promises to one another about a future spent together and without their husbands, the season ended on a cliffhanger, with Elodie being taken into police custody.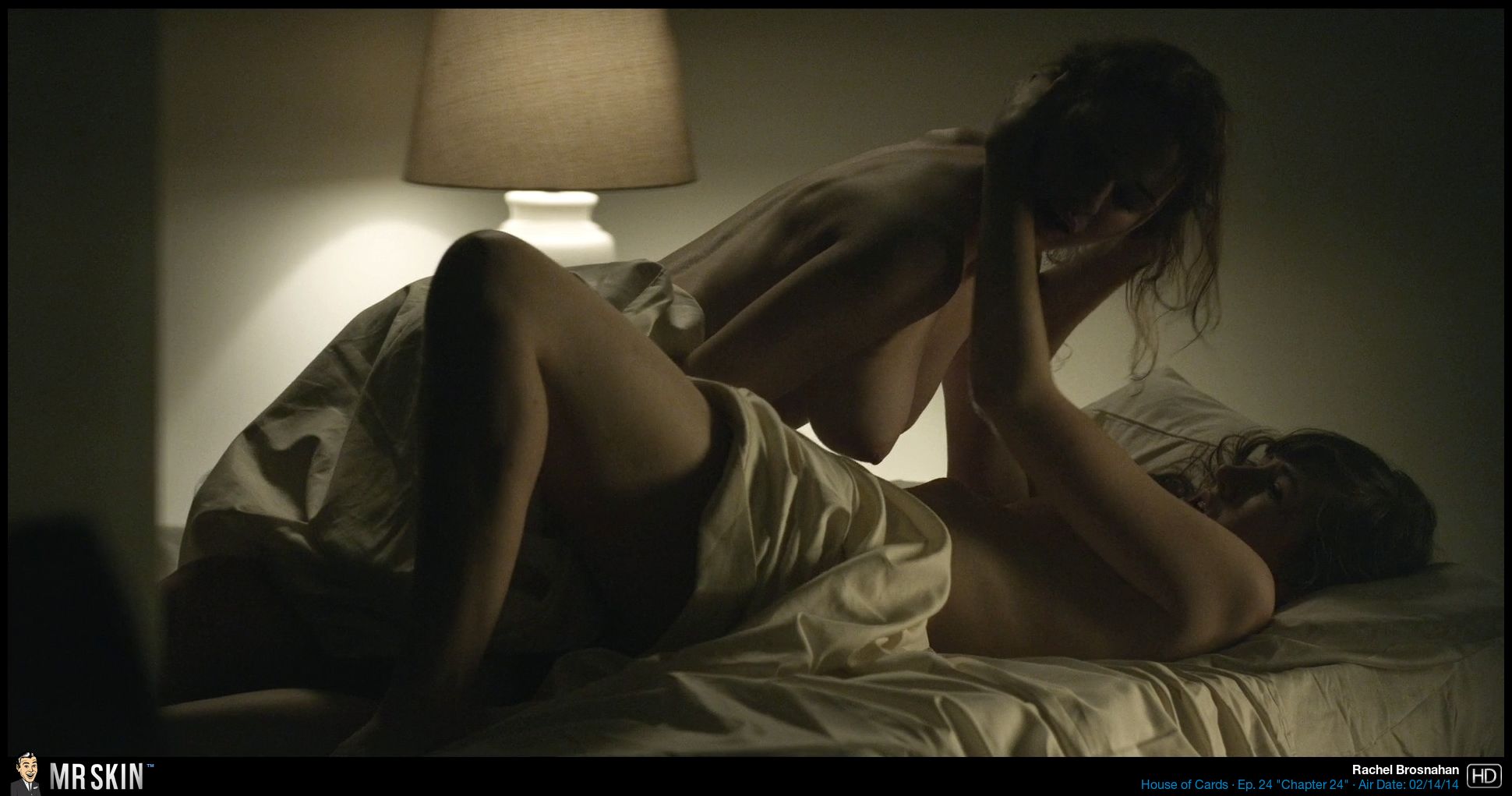 Next up for Rachel is the CBS mini-series adaptation of Alice Hoffman's 2011 novel The Dovekeepers. Rachel stars as Yael, the daughter of an assassin living during the time of the Siege of Masada in 70 C.E. Her co-stars include Kathryn Prescott and Cote de Pablo, and the story is one focused on three strong women who utilize magic, love and faith to rebuild their lives after living through individual tragedies.
We spoke with Rachel during TCA about her roles in
The Dovekeepers, House of Cards, Manhattan 
and her cameo in
Orange is the New Black
.
AfterEllen.com
:
The Dovekeepers 
looks great. Can you tell me why you're interested in it.
Rachel Brosnahan: Originally I was so excited about the fact that a network like CBS, with the reach that they do, wanted to tell a story that was completely centered on three complex, strong women. It was thrilling to me. It's thrilling to me that there's a trend on network TV right now, and everywhere it seems, even though there's still a long way to go—there seems to be a movement in people being interested in telling stories like this. And then I got an opportunity to read the book and the book is so beautifully done, and it's so poetic and such an intricate look inside the head—I mean, it's amazing that this book was written in modern times about a time that we know so little about from a female perspective. There are almost no historical accounts at this time, and for somebody to get in the head of the three vastly diverse and complicated woman was incredible. And the book became a bible, of sorts, because something on a script that is this long, is pages and pages of thoughts in a book.
Gosh, she's so brilliant.
The book is incredible. It captures a lot of stuff—there's a brief moment that passes on screen that is a whole chapter in this book. It's so universal, the book. It applies so much about what is happening in the world today, questioning who you are and faith and love and lust and all the challenges of growing up because Yael starts very, very young in the book. I think we've made her a bit older in the movie but in the book I think she's like 14. It's just so beautifully done, I can't recommend it enough.
AE: Do you share scenes with Kathryn Prescott?
RB: I didn't have many. It's so hard to remember because we were moving so fast that it feels like we may actually have tons of scenes together but we shot them all in two days. [laughs] But Kat and I do have some wonderful scenes together, specifically in the dove coat and a couple scenes in their house, in Colby's house with Kat.
AE: Does it past the Bechdel test?
RB: Absolutely. Yes, definitely. There are scenes that are centered around magic, and centered around survival, that have nothing to do with their love interest. But there is a lot of love in the book and it's hard sometimes. I'm absolutely wanting more things that pass the Bechdel test.  You think there would be more things passing the Bechdel test, it's ridiculous that there's not more of it out there.

 
But in this specific instance, this story explores such universal themes, especially to do with growing up and the journey of self-discovery; one of which—in everyone's lives, whether you are a man or a woman—has to do with love. It has to do with what it means to you and first love, and how all consuming it is. And under these circumstances where the stakes are 1,000, at any given moment love becomes one of the most important things, one of the most grounding things. Whether its love for a lover or whether it's love for your family or friends, it's such a central theme in this story that on paper it wouldn't pass the Bechdel test, but it's such a central part of it that it doesn't feel the same of some of those other projects that get scolded for not passing the Bechdel test.
AE: So when did you film this, in-between Manhattan?  
RB: It happened very quickly, it was something that had come up and gone away while I was shooting Manhattan. And then I finished Manhattan and was here in LA for a split second, found out this was happening, went back to New York, shot a movie and then went to Malta for two months. It was crazy!
AE: How do you navigate the head space of all the characters, they're so different.
RB: I am always so worried about it. For the second season of House of Cards, for example, I was doing a play on Broadway. I was playing an extremely stylized character in the 1940s, a young actress which couldn't be more different from Rachel Pozner. And while we were doing the play, during the day for a few days, I would go to shoot House of Cards, the second season, and I was so worried that I was going to slip into a weird accent or be way too big for who Rachel is. It's scary and I'm not sure that I've quite yet figured out how to properly do that when you're busy.
When you have time between projects, it is such a luxury because you can say, "OK, I'm holing away for a month to solely do research for this and to find this character and to get into this headspace," whereas moving that quickly—which I'm so stupidly lucky to be able to do, I can't even express how lucky that is— but one of the challenges has been that I've had to kind of be like, "No, I'm doing this character right now" and trusting that—in the case of this, for example, there was no time. They pulled it together, it was like a crash course in like two weeks. It was complete insanity and it lasted all the way through the shoot.
AE: Did it feel like you were making a movie or did it feel like TV?
RB: No, it definitely felt like we were making a film, particularly considering that we shot the whole thing in 33 days, which is about the time you'd shoot a two hour film and we shot a four hour limited event series. So it definitely felt like we were shooting a film. But it was different from anything I've ever done, just because of how grand a scale everything happens on. So many of these shots, the people in them are little ants in the background of a huge sweeping shot of our beautiful set.
AE: When did you know that the lesbian storyline was going to be happening for you in Manhattan? Did you know it from the beginning because it was a surprise to people watching!
RB: I had an inkling of an idea when I first signed on to the show. [Creator] Sam [Shaw] and [Executive Producer] Tommy Schlamme, I was asking—something that was very important to me, picking my next project post-House of Cards that I really wanted to make sure, especially in a period piece, that as a woman in that time, I wasn't just an appendage to a more interesting and more well-rounded male character. And so when they started telling me about where Abby's storyline was going—again, they didn't have all the scripts so it was all speculation, a lot of it changed. But they did tell me, early on, I would meet a woman who would become a very close friend and who would challenge my ideas about who I am and what my marriage meant. And they mentioned the idea of a romance.
I had no idea that it would last as long as it did. I thought it may be something fleeting and it was lovely that it got to develop as it did, and that it became about so much more—it became about something much larger than them. And it played on that line of their fantasy life versus their actual life, and friendship versus something more in a time when you're so desperate to connect with someone. They did a beautiful job of expanding their relationship.
AE: And are you coming back? Can you tell us about the Abby/Elodie relationship in Season 2?
RB: Yes, yeah! I know absolutely nothing. I know nothing! We go back in April so we still have some time to, hopefully, sit down with Sam and Tommy get a little bit of an idea. I have no clue but Carole [Weyers] was such a joy to work with and I hope we see her again in some regard, at least the spirit of Elodie lives on because she was such a joy to work with. What a talented, talented woman.
AE: So House of Cards, gotta ask: Are you in the new season?
RB: I can't say that! It'd be no fun! That would be no fun if you knew because Season 2 ended in such a cliffhanger for Rachel. I had no idea for ages and now I know but, either way, I think it's interesting and relevant to the Rachel storyline so you don't want to know. Either way it'll be interesting.
AE: You've been very active on Twitter. Do you find there's a specific show people are coming to find you and talk about?
RB: I think House of Cards, definitely. Specifically because that show really helped redefine what television is and the way that it's being presented. I feel it was a pioneer, in a lot of ways, for all of this new content and the ways we've been seeing it distributed in the last couple of years. So because it's an internet show, people are reaching out on the internet and the storylines been very controversial, so people have a lot of opinions about it. So it's been fun! But on top of that, it's been cool to hear about Manhattan and originally Twitter was so intimidating to me that now it's become fun. I figured that as long as I'm amusing myself, I'll keep doing it.
AE: Did you ever watch Kat on Skins?
RB: OK, I did! I had no idea and when we were working on this, I was fangirling so hard. I love Skins! I'm half British so I watched a lot of Skins and I couldn't figure out when I first met her. I don't really look people up before I work with them because it's intimidating. And so I couldn't figure out where I thought I knew her from and she mentioned it and I was like "No way!" Oh my god. I love her.
Skins was so provocative for that time. Now there's a lot more LGBTQ characters being represented on film and TV, and the representations are becoming increasingly more diverse, which is important and which is exciting. Like Transparent—so exciting that [Jeffrey Tambor] won the Globe, and being recognized. And hopefully at some point trans actors will be recognized not just for playing transgender people but also as the gender that they live as, you know? I have a guy that I went to school with, a trans actor, who is just so wonderful and been successfully playing the gamut and hopefully there's more of that to come. And that being trans or being gay is the least interesting thing about people. It's happening more and more and I'm excited to see where it goes.
AE: That makes me think you should be on Orange is the New Black for a cameo.
RB: I did a little one! Did you miss it? Blink and you miss it! In the first season, yeah, so before—while I was shooting House of Cards, the first season. I got this call—I play Tricia's friend in her flashbacks, her homeless friend. It's really quick. We did a couple little scenes. I got this call, before anybody knew what the show was, being like, "They want you to go in for this character named Lil' Allie." And I was like, "What? Who on Earth wants me to come in and play Lil' Allie?" And I was like, "Yes! Please! Please, for God's sake." And I went in and was like, "I"m pretty sure I'm being such an asshole right now. This is such a joke." But then I got it and I couldn't believe it. I had the best time. Maddie Brewer is so fun to work with and she's doing so well right now. But yeah, little cameo in the first season.
AE: Well maybe Lil' Allie can do a crime and do some time, get put in at Litchfield.
RB: Hello Netflix! I'm ready! I'm available to guest star! After a couple of months off, gonna go do some Manhattan, then I'm ready!