Everyone has experienced the occasional wardrobe malfunction, but when you're a celeb, your most embarrassing moments are often captured for all the world to see. No one is immune, with stars from Anne Hathaway to Emma Watson even succumbing to the occasional style mishap. Here's an overview of some of the more noteworthy embarrassing celebrity moments and reveals.
Nip Slips, Crotch Shots and Other Embarrassing Celebrity Moments

Janet Jackson Performing at Super Bowl XXXVIII
This was the breast seen around the world in 2004 and led to the great debate about the true intentions of the performers. Luckily, Janet's nipple was covered or the FCC could have fielded a lot more complaints.


Jennifer Lawrence at the Berlin Premiere of The Hunger Games: Mockingjay – Part 2
There's a reason stars don't bend down on the red carpet. As she tried to adjust the bottom of her purple plunging Christian Dior gown, Jennifer had to hold on to the top for dear life to avoid showing off too much skin.


Cara Delevingne at the London Premiere of Pan
We love when celebs show their fans some love, but Cara put a little too much of herself out there when she stopped to greet onlookers at the premiere back in September. Her bare backside was clearly visible as her black Burberry minidress shifted during her meet and greet.

Heidi Klum Getting Ready for the 2015 Creative Arts Emmy Awards
It's always great to get a peek behind the scenes at how a star gets ready for the red carpet. We're assuming that Heidi didn't intend on giving her followers a peek at her nipple, though.


Rihanna Outside a New York City Recording Studio
The singer's semi-sheer white bra didn't really provide much support when it came to camouflaging her nipples. We're guessing Rihanna was OK with all the extra attention since she wore the top part of her satin PJs wide open.


Nicky Hilton at the Atelier Versace Fall 2015 Show
Nicky managed to snag a front row seat for the presentation during Paris Haute Couture Fashion Week. Her white grommeted dress perhaps revealed a tad too much, however, when its sheer peekaboo panels offered up a cheeky glimpse of Nicky's backside as she headed up the stairs.


Elizabeth Olsen at the Miu Miu Club Launch of the First Miu Miu Fragrance and 2016 Croisière Collection
A gust of wind can be a girl's worst enemy. Case in point: Elizabeth flashed her undies before the cameras at this Miu Miu event as part of last July's Paris Haute Couture Fashion Week. The actress clearly took the revealing moment in stride with a pretty priceless facial expression.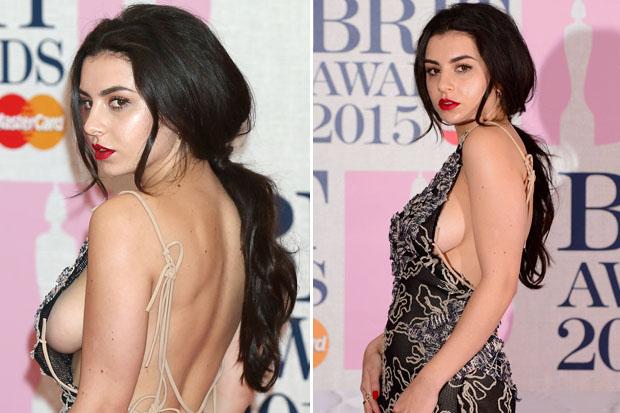 Charli XCX Performing at the 2015 Glastonbury Festival
Sometimes performers can get swept up in the moment on stage. The singer was clearly in the zone at the iconic Glastonbury, so she may not have even realized that the audience was treated to a shot of her underwear.


Lady Gaga at Famous Amadeus Pizza
Doesn't everyone sport a blazer with nothing underneath to grab some late-night pizza? Gaga was asking for trouble when she picked up a pie after a New York City performance last summer, especially when she tried to block the paparazzi shots by covering her face with her arm, exposing her breast.


Paris Hilton at Milan's Just Cavalli Restaurant & Club
When wearing sheer pieces, it's important to make sure that the non-sheer sections cover up the goodies. Paris flashed a little nipple in this black minidress while striking her various signature poses.
Beth Behrs at the 2015 Tony Awards
Many women (celebs included) swear by shapewear when it comes to fitting into those formfitting looks. But no one wants their support garments exposed. We're pretty confident that Beth never intended to reveal her secret red carpet weapon when she posed for this pic.


Charlotte McKinney at Spike TV's Guys Choice 2015
We're used to seeing stars take risks with daring necklines, but Charlotte flipped the script by taking the plunge from the back. It's just too bad that the low-cut draped open back dipped down to provide a rather cheeky view.


Chrissy Teigen at the 2015 CFDA Fashion Awards
This creamy and crisp Solace London gown featured a center slit that kept giving Chrissy issues on awards night. The model frequently had to pause for adjustments, but at least she took it all in stride.


Diane Kruger at the 2015 Cannes International Film Festival Photocall for Disorder
Hopping up on a ledge to pose for pics at a photocall probably seemed like a good idea initially. The plan went slightly askew, however, when Diane flashed her pink underwear at photographers as her short Dolce & Gabbana dress inched upward.


Chrissy Teigen at the 2015 White House Correspondents' Association Dinner
Chrissy worked the extended side slit on her sparkly Zuhair Murad Fall 2015 gown in an effort to show off those equally flashy Giuseppe Zanotti sandals. She most likely didn't plan on also flaunting her underwear in the process.


Doutzen Kroes on Instagram
Despite being paid to show her body, Doutzen's derrière got some unintended exposure when her jean shorts were seriously shredded. We're not exactly sure how this happened, but the model posted this rather cryptic quote alongside the image: "He popped all my buttons and he ripped my shorts…."


Behati Prinsloo at the Paris Tommy Hilfiger Boutique Opening
While a breeze can be rather refreshing, it can also be a source of stress when it causes a wardrobe malfunction. Behati fell into the latter category at the opening when her crimson dress with sheer layers blew up, uncovering her behind.


Dianna Agron at the Alexander McQueen: Savage Beauty Fashion Gala
Dianna put a little bit too much of herself on display at the gala. The deep plunge on her black gown wasn't exactly designed to be viewed from the side.


Christina Milian at the Los Angeles Premiere of Focus
Side boob is a common sight on the red carpet these days and those who dare to bare usually employ some form of double-stick tape to avoid a disaster. Christina's fail-safe fell through, though, and the singer's nipple was visible from certain angles under her bright blue blazer.


Behati Prinsloo at the 2015 Vanity Fair Oscar Party
That will teach Behati to wave at a party. Luckily, hubby Adam Levine was there to lend a hand and help keep her covered up the rest of the night.
Emma Stone at the 2015 Oscars
It's not surprising that Emma had a slit slip at the ceremony in this gorgeous Elie Saab Couture chartreuse beaded gown. We're just amazed it didn't happen repeatedly while the gregarious actress was bear hugging Jennifer Aniston on the red carpet.


Nicki Minaj Posing With Derek Jeter
Derek seemed pretty oblivious to the fact that Nicki was revealing a touch of nipple in this snap. Apparently, the rapper failed to notice as well since she uploaded it to her Instagram.


Vivica A. Fox at the 2015 Femmy Awards Gala
Vivica was probably counting on her gown's embellishments to protect her from flashing her nipples. No such luck.


Laura Govan at the Los Angeles Premiere of The Wedding Ringer
Blowing a kiss is a sweet gesture, unless it results in your left breast being exposed. We wonder if Laura stopped showing affection on the red carpet after this mishap.


Khloé Kardashian at French Montana's 30th Birthday Party
The flash of a camera can turn semi-sheer fabrics into completely sheer fabrics. Take Khloé's dark halter gown as she celebrated her former boyfriend's birthday in November 2014, which provided a clear view of her breasts once the photographers started snapping away.


Nicki Minaj Performing at the 2014 MTV Video Music Awards
When you're performing at the VMAs, it's probably best to pick an outfit designed to move with you. Unfortunately, Nicki opted for an extremely low-cut LBD for her turn on stage at the 2014 show, which betrayed her when it popped open.


Paris Hilton at Her 2014 Birthday Party
We all know that Paris loves to be the center of attention, but we assume she wasn't trying to put her nether region on display when she struck this awkward pose wearing a high-cut Alon Livné dress. Although with the socialite, you never know.


Julianne Hough at The Weinstein Company's 2013 Golden Globe Awards After-Party
Julianne busted a move and her gown working the after-party circuit. She started to rip her pale pink Jenny Packham even more to even things out, but had to be careful not to take it too far since she wasn't wearing any underwear.


Anne Hathaway at the New York Premiere of Les Misérables
Anne's elaborate Tom Ford ensemble really was a show-stopper — as was her exit from the limo when she inadvertently flashed her Brazilian to photographers.


Sofia Vergara at the 2012 Emmy Awards
Sofia's flashy Zuhair Murad was a bit formfitting, which probably explains why the seam along her backside tore open at the event. The Modern Family actress even proudly tweeted about the mishap.


Adrienne Bailon at Caesars Entertainment's Escape to Total Rewards Event
The former Disney star opted for an incredibly sheer dress she helped co-design at the event. When the wind picked up, so did the front section of fabric, exposing Adrienne's lady parts.


Stacy Keibler at the Paris Premiere of The Descendants
Back in October 2011, Stacy was still George Clooney's plus-one and she had an unfortunate fashion faux pas in this embellished Marchesa. We all know tit tape is necessary for a strapless gown, but it shouldn't be a visible accessory.


Eva Longoria on the Late Show with David Letterman
Dave certainly got an eyeful when Eva's extremely short Boca Negra suit lost its one and only button in April 2011. Both stars seemed to recover pretty well, although the peep show temporarily stunned the late night host.


Katherine Heigl Accepting the 2010 ShoWest Female Star of the Year Award
It's bad enough having a malfunction on the red carpet, but Katherine had a mortifying on-stage moment in March 2010. The actress took it in stride when the strap broke on her red Donna Karan and thankfully presenter Billy Bush was there to lend a hand.


Emma Watson at the London Premiere of Harry Potter and the Half-Blood Prince
Emma is known for taking fashionable risks, but showing off her underwear while adjusting this vintage Ossie Clark gown in 2009 wasn't exactly calculated. The young star was able to laugh off the incident telling David Letterman, "At least I was wearing underwear."


Tara Reid at P. Diddy's 35th Birthday Party
Tara's 2004 breast-baring incident was pretty awkward. Of course, the fact that she was posing for pics while it was hanging out made the whole thing much, much worse.