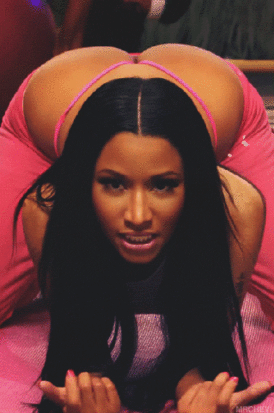 Why I'm Forever Thankful to Nicki Minaj & Her Fat Ass


Comapre Apple to Apple …


I'm not even gonna kid around with this. I have a big, fat ass. I mean if I have to sit next to Kim Kardashian, I'm sure her Armenien ass would beat mine down, but on the whole ass spectrum, mine certainly sits on the chunkier side of things.


So much so that buying any kind of pants is a problem. If it fits around the hips, then Imma hafta buy a belt cuz that sucker is going to be too big for my waist. If I get something low cut that hugs the hips, then I better be wearing a long top because when I sit down you can bet half my ass if hanging out of my pants. #fatassproblems



Before we continue, let me just drop a little ass history on you. Jennifer Lopez was the first diva on the block with a nice big behind. Almost single handedly she made it almost ok to have a fat ass. But not quite. Then other divas appeared. Queen Beyoncé. Alicia Keys. And most notably, Kim Kardashian. Suddenly the world became an ass friendly place.
It seemed like we were well on our way to body acceptance – particularly, big bootie acceptance. If someone had a big ass, no one called her fat ass unless it was spelt with a 'ph'. Then Nicki Minaj went and dropped her new single with her infamous cover art and the internet imploded.
Everyone had something to say about her behind. Seeing a big behind that up close, and that in your face sexual was not what people were used to. Gasps could be heard all across middle American moms (and dads). Us ass-tastic people thought we were accepted, but the reality of it is that it was all a lie.


Let me explain. Sure Jennifer Lopez has a wonderful behind. It's big and juicy and covered. Only bits and pieces of it are visible. Draped in beautiful, shiny fabric, designed to enhance and titillate. Beyoncé is always in a gorgeous swimsuit like outfit, but her behind too is firmly covered and only the bits that are acceptable are let out. Same goes for Kim Kardashian and everyone else.
It's like they were saying, "Yes we know are asses are HUGE. And that's not usually accepted. But look, look, we'll dress it up pretty, do a lot of lunges and make it all perky like. See now it doesn't look big and in your face. In this angle it looks juicy and awesome and slapable."
And the world agreed. Yes, this is ok. We shall accept it.
That is, until Nicki Minaj came around.
It's like the world had never seen a big ass uncovered before. Nicki put her ass on display and it was big, round and luscious. And the world gasped, not knowing what to do with it.
She didn't cover it up, or try and show the 'pretty' bits, or apologize. When people tried to 'teach' her that this kinda thing isn't done in polite society she fought back. And I love her for it. She didn't bow down to the world that said she was too much. She said, "Fuck dat!" and wrote a song about it!
Her song is raunchy as fuck and she's not holding any punches. If you think the lyrics pushing it, then you better not watch the video because you might just end up with an ass fetish. Viewed on YouTube over 233 million times (with a good number coming from yours truly) I am pretty sure that video helped ease many a lonely night for many men (and women) out there. Yeah, I said it.
I'm not saying that the work that Ms Lopez, Beyoncé, and the others did to pave the way didn't help. I'm grateful for the effort. But Ms Minaj came in and yanked the bandage off. I'm thankful because Ms Minaj unapologetically told the world "Fuck you!" if you can't handle my ass. And the went on to say, "Deal with it!" because this is what a big ass really looks like. #respec
By Calico Rudasil