Miley Cyrus really got into the Christmas spirit at Jingle Ball on Friday night, grinding on a "drunk" Santa Claus while performing "Get It Right."
Cyrus twerked on Old St. Nick, who carried a fake alcohol bottle in a paper bag.
She also danced with some skimpy-looking reindeer and little people dressed in silver onesies … And lotta BLOWJOBS !
WATCH: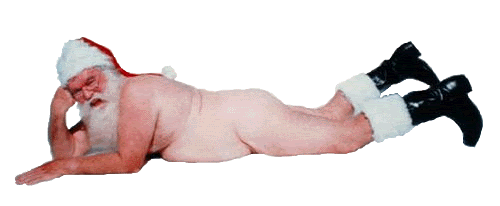 Miley Cyrus
I Twerked Santa
And Grabbed a Little Person's Boob
I saw Miley Cyrus twerking on Santa Claus … underneath his big red crotch last night.
She didn't seem too creepy … until she grabbed a little teat.
Then she, began to wave her tongue and shake her ass on sexy reindeer treats.
And what a laugh it would have been, if Billy Ray walked in …
And saw Miley twerking Santa Claus last night.
Oh yeah, this all went down at the Jingle Ball concert in L.A. last night, and you gotta see the pics. Easily, the creepiest Santa of all time.