Daniella Wang Li Dan 王李丹 from Henan, China
Name:
 Daniella Wang Li Dan 王李丹 / Wang Li Danni
Date of Birth:
 Aug 6, 1989
Height:
 175 cm
Weight:
 51 kg
Measurements:
 32F 24 35
Weibo:
http://weibo.com/wanglidan
Blog:
http://blog.sina.com.cn/dannihan
About:
 Daniella Wang Li Dan 王李丹 is a popular Mainland model and actress from Nanyang City, Henan Province. Also known as the "China's Goddess of Boobs", Wang Li Dan is actually of Mongolian ethnicity. She claims that her assets are real and it is common in Mongolia for girls to have big boobs. In 2012, Wang Li Dan rose to fame after appearing in a Hong Kong CAT3 movie – Due West: Our Sex Journey (一路向西).
Due West: Our Sex Journey (一路向西) describes the internal struggle of a young person seeking "love" and "lust" in contemporary society of Hong Kong. The film reflects the reason why men head North to Mainland to seek pleasure and the general problems exist among Hong Kong girls. It also focuses on the intricate conflict of the two-sided coin of love – affection and lust.
The climax of the movie was that the F-Cup Wang Li Dan used her impressive assets to rub against the back of the leading actor, Zhang Jiansheng 張建聲. She had bold performance in her first erotic movie, with complete nudity, but surprisingly she is a medical student behind camera. When she is not busy shooting erotic films, Wang Li Dan can be found at Shanghai's Jiaotong University, where she is currently in her fourth year studying clinical psychology.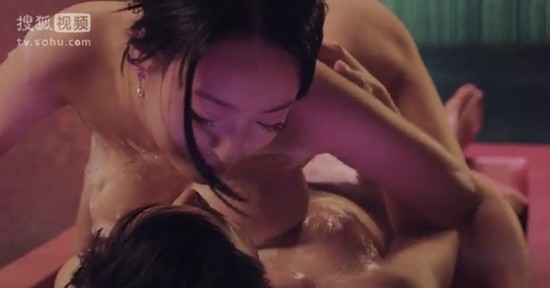 She recently said that, "To be honest, I took part in this movie to earn some quick money, and my goal is 4 million. I will not graduate till next October, but it will cost a fortune to get the license and open a clinic. I hope I could earn enough to open it." Given Wang Li Dan's natural and smooth performance in Due West, Xiao Dingyi, the investor warmly invited her to join the cast of 3D Sex and Zen 2. But Wang Li Dan had concerns that if she continues to perform nude scenes in movies, it would affect her dream of becoming a doctor.
Wang Li Dan stated that as long as it would not affect her study, she would continue to be an actress till she saves 4 million RMB. She said, "I will not give up on becoming a doctor, but I still worry that taking part in erotic movies would exert negative influence on my doctor career." Wang Li Dan claimed to be a university student from mainland China, but her public information shows that she graduated from Beijing Central & North Emperor Performing Arts School (北京中北英皇艺术学校), without mentioning being a medical student. Many Netizens expressed suspicion on her "medical university student" identity.