Emayatzy Corinealdi (Breasts) & Elizabeth McLaughlin (NN) in Hand of God [Pilot-S1E1]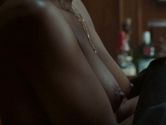 Emayatzy E. Corinealdi
It's all Ron. The show was made for him and vice versa. Brisk editing reduced some of the supporting players overall impact. Amazing segment involving possible rape suspect in the interrogation room. Always nice to see Dana Delany. Cute Jewess and all-around perfection Alona Tal continues to impress, still waiting for her first nude scene. Might just arrive courtesy of her Jocelyn. The rape victim is clearly hiding something that may have led to her husband current predicament. Garret Dillahunt is the man, almost matching Ron in charisma and in-your-face presence. The Wire alumna Andre Royo holds everything together in atypical bombastic role.

Elizabeth McLaughlin
HoG should go to series. Faith-themed series has this strange fascination, an unexplainable attraction for folks. More than that, it's extremely well-made, fast paced and entertaining without any dull spot.
I want to see slutty face Elizabeth McLaughlin boobies. She's banging the handsome Reverend. They didn't have the time to develop the duo's story arc but expecting a sex scene in Episode 2 or 3 as a lazy intro into the lovers background.
[ PW: 7478393MDNDN ]
Meet Alicia and Paul. #HandofGod @Ju1ianMorris pic.twitter.com/u6O7NoTuMs
— Elizabeth McLaughlin (@BzMcLaughlin) April 15, 2014
@perlmutations calls her "secret weapon" Her parents named her @Emayatzy We'll soon know her as #Tessie #HandofGod pic.twitter.com/XwKJe2R5o8
— Ben Watkins (@_Benipedia_) April 29, 2014