Free The Nipple campaign goes on as Caitlin Stasey makes important political statement by showing her nips to Instagram


Caitlin Stasey is making another important political statement (Picture: Caitlin Stasey/nstagram)
Caitlin Stasey has yet another important message to make using her breasts.


Caitlin Stasey nude from behind – photo from her boyfriend's Instagram …


She's is championing Scout Willis's Free The Nipple movement – and she is in good company too, with Cara Delevingne and Rihanna also on board.


Okay, so she's no Emmeline Pankhurst, but she's dedicated – and she has posted another pic of her nipples to prove it.


The snap she shared on Instagram of her at home rocking a crop top with definite boobage showing through certainly proves she has no need for a bra. Has she burned hers?
Bold move.
Stasey recently posted completely topless pics on the photo sharing site, which were removed pretty quickly. Not before the world saw though, of course. She learned from her mistake this time by subtly covering up to avoid the sort of full exposure that results in a ban. Cunning.
Stasey is a fan of using social media to get her point across, after recently taking on 15-year-old Bindi Irwin, daughter of croc hunter Steve, when she voiced an opinion on how girls her age should dress.
In response, Stasey tweeted:


CaitlinTweetBindi
Bindi took it on the chin, and the pair have agreed to disagree.


Would you wear THIS nipple bikini in the name of feminism?
We guarantee that no matter how racy the bikinis are in your summer wardrobe, they won't be as shocking as this latest feminist development: the nipple bikini.
The new TaTa top, marketed as "the breast bikini top ever!" (LOL), is a reaction to society's discomfort with women's breasts. Why should women be afraid of breastfeeding or scared to show their bodies in public?
As the makers of the TaTa top, Robyn Graves and Michelle Lyttle, write on their website:
"Why can't girls be topless? If you really think about it, what's the difference between a man's nipples and a woman's? Is it really just the extra breast tissue? Is it the fact that women's nipples are paired with a vagina? What is it that is so horrible that caused SUCH hysteria?"
Not brave enough to go totally topless? Now you can bare it all while maintaining modesty in a daring 'TaTa Top' bikini
Though they are not directly affiliated, the TaTa Top was in part inspired by the Free The Nipple movement made popular by Bruce Willis' daughter Scout
Lina Esco of Free the Nipple on Censorship, Body Shaming, and the Freedom of Being Topless
by Ashley Hoffman
Can you describe how you felt the first time you went topless?
Lina Esco
It was in Times Square. That was the first time I've done it. It was nerve wrecking. It was the most empowering and liberating feeling. There was so much fear going into it and it was so liberating. It was in your own way exposing without anyone telling you what to do. It was even more exciting than jumping off an airplane, and when I came out the other side, I couldn't stop laughing or smiling. I felt so free. I've never felt the same way after that.


The movie Free the Nipple, based on the true events of the splashy movement for gender equality, opens tomorrow. Activist Lina Esco directs and plays the lead character. With its punk soundtrack and baddass-looking topless "Girlrillaz" (in hot pink ski masks that pay tribute to Pussy Riot,) the film stands on its soapbox the whole time. But just like firing up the movement, pulling off the movie was a battle for these women even when their boobs weren't out.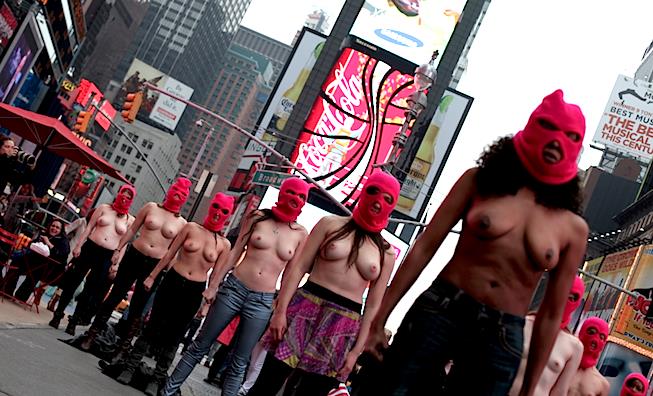 "It was issue after issue, not being able to get the music because of the title, nobody would take it seriously," Esco says over the phone. "The cops in New York didn't want to give us permits because the talk of the town was that we were distributing porn." When you're in New York exercising your legal right to do what any man could do since 1936 without getting tackled by police, breasts power the cause and hurt it at the same time. "It comes down to women owning their bodies," she explains.


So too is the nipple a vehicle for other issues. Beyond the right to show your tits, it gets even more interesting.
What do you remember about how people reacted to your stunts before this movie?
I went with a few friends to Zuccotti Park during Occupy Wall Street, and I wanted to see the reaction and talk to the people. We were out there and within minutes, 300 people were hounding us for pictures and their phones were shaking and falling down. It was like the second coming of The Beatles (laughs.) I said, "when you guys are done taking pictures, we would just like to talk." It was madness in the beginning, and that's when I knew I had to do this film.

Free the Nipple gets your attention because the face of it is breasts. Can you talk about the power of the nipple?
It's a symbol of the oppression of women. It's all behind the nipple. There should be a flag and one nipple because this nipple is apparently doing all kinds of things. I don't think I knew that the nipple would be the Trojan horse for all these issues of inequality. It was funny and engaging, and it all comes down to the nipple. The point is to own it. All these designers are doing a lot of sheer tops with the boobs because it's beautiful. It's showing beauty in a different way, but we have this Puritanical mentality. It comes down to women showing these images of women owning their bodies. There are barely any laws against male bodies. It's just like Rosa Parks said, "if people are sitting front of the bus, I want to be able to sit in front of the bus." This is the same situation here.
This is not a new cause, but it's getting a lot of belated hype. Is it social media?
I think social media has helped a lot. It's how we share our experiences. When you can't share a picture of you doing something beautiful like breastfeeding your child, this basic human act, they're making you feel like criminals. I had a picture of boobs on Instagram, and it looked like a painting, and they deleted it.


Like Grace Coddington's doodle of nipples. Can you speak to your specific experiences with censorship?
I think that the fact that there are beheadings of women on Facebook, but a a girl promoting breast cancer awareness by showing piece of their body is somehow wrong…I also heard that the majority of Facebook is 75% male. That's why inequality issues on social media are only going to continue. We're living in times when things kind of pass. The attention span is so short nowadays, but celebrity mothers and more people are highlighting why this is not acceptable.


The film really avoids sexualization. For the uninitiated, can you explain the difference between owning your body or being topless to be sexy?
If you're topless and being sexy and doing certain sexual poses topless, and then you're just being cool like you're wearing a t-shirt — there's a difference. Somebody was talking about it today. Miley Cyrus had been wearing nipple pasties at Art Basel. She just walked around with them. She's not sexy. She's just being chill. If you're topless and whoever is taking the picture is telling the girl to be really sexy and milking that, that's different.
What about the women who say these women parading around are just inviting rape?
What kind of society is this where exposure is a potential threat to their safety? Rape has no casual connection. There's no such thing as asking for it. If a guy's topless, is he asking for me to go rape him? What about the men who say, "well, if you're going to do that, I'm just going to walk around with my dick out"?
I just kind of laugh. It's another misconception. Topless is not equal to nudity. It's not. The guy has the same areola, and I have a little more tissue. It's beautiful. This is where we fucking nurture. Feed the baby and wear a cover over it? Isn't that an awful mentality? We call ourselves the freest country, and we're not.


The film talks about the Christian right's opposition to Free the Nipple. Has anyone religious joined your cause?
They sent some angry messages about what we were doing. I don't want to get into it. They have their views and believe in certain ideals. I 'd like to sit in front of somebody religious and have a conversation. That'd be great. I'm open to that.


What's another way that people police a woman's body?
The abortion bill. Why are you telling us what to do with our bodies? It keeps me up at night, maybe because I grew up a rebel, and I ran away from home. It's just a long story, but I ran away from home at 16. I've always questioned the status quo and anybody trying to tell me what to do. Nobody's telling them what to do with their bodies so the whole thing… you're fine fucking the girl, but you're telling her she's not allowed to have the option to have the pill or not? Come on!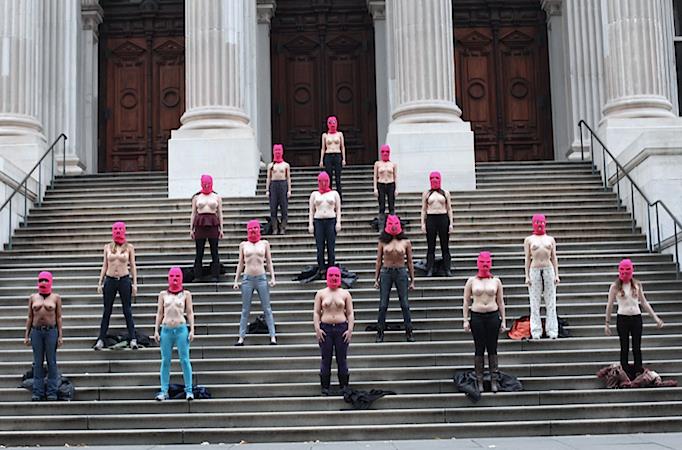 You seem to squeeze the victories and the setbacks into a short amount of time. What issues did you have filming?
We were shooting through Sandy, and we were supposed to go to Washington D.C., but they did not want to pay for the ending so we had to sit down and rewrite pages and do it in New York, which was more organic anyway. The real obstacles have made the movie better.


Your character has nothing to lose, do your relate to that?
When we were going through financing, we had barely any. My agent dropped me in 2012. Everyone kind of abandoned me. When she gets fired for writing the article and doing this, that's the reality. I didn't get support. I felt pretty alone, but I was making this choice to alter everything I worked hard for.


Do you think it actually helped that you alienated people?
Yeah, it's so funny there's this line in the movie, "the sanest person on the planet nothing to lose."
Can you describe how you felt the first time you went topless?
It was in Times Square. That was the first time I've done it. It was nerve wrecking. It was the most empowering and liberating feeling. There was so much fear going into it and it was so liberating. It was in your own way exposing without anyone telling you what to do. It was even more exciting than jumping off an airplane, and when I came out the other side, I couldn't stop laughing or smiling. I felt so free. I've never felt the same way after that.