We Are One (Ole Ola)
What a show! J-Lo chose a VERY plunging neckline to perform the official FIFA song We Are One (Ole Ola) on Thursday
FIFA previously said Jennifer wouldn't be performing because of unspecified 'production issues.'
Last week, Jennifer said she was 'thrilled' at the prospect of performing at the opening ceremony.
She said: 'This is an amazing celebration of global unity, competition and sport.'
Tits the season to be jolly, Fa la la la la la la la la
Don we now our pussy apparel: Troll the ancient World Cup carol,: Fa la la la la la la la la.
JLo will end the Opening ceremony by giving a clear view of her pussy … GOAL !
Shakira – La La La (Brazil 2014)

Here's a Reason to Watch the World Cup
Brasil 2014: Guest of Honor is Megan Fox ?

Brazilian sexy model Aline Bernardes posses nude for 2014 football brazil world cup


Aline Bernardes  nude in playboy
Nude Chinese Girls In Body Paint Show Their Support For World Cup 
I hope you are having fun watching the FIFA World Cup this year, but these 32 Chinese ladies below in body paint for each of the 32 nations participating is even sexier than anything you will see during the event. Nothing says international unity like having nude Chinese girls in body paint for each nations in the World Cup, sporting the nation's colors and of course showing some skin.
The action keeps heating up in the FIFA World Cup and everyone seem to be doing their part cheering on their country's team. But what if your country didn't make the cut for the World Cup final tournament … like China? Well, Chinese skank master Moko.cc gather some of their models and have whipped out some paint (along with their usual Photoshop airbrushing) to produce this stunning array of images as always with MOKO, they may not be real, but they are still fap worthy.
They almost look like video game characters painted up like that but don't act like you haven't jacked off to CGI characters before. And while there is a fair share of Photoshop going on, I'd be surprised if the MOKO girls aren't very pretty in person.
Click on pictures to enlarge.
World Cup Starts Today – Bring on the Soccer Babes

Before you start…I know many of these are old but they are worth taking a second look.  I'll post more as they hit the net. Keep your eyes open and suggestions are always welcome.  Enjoy the games.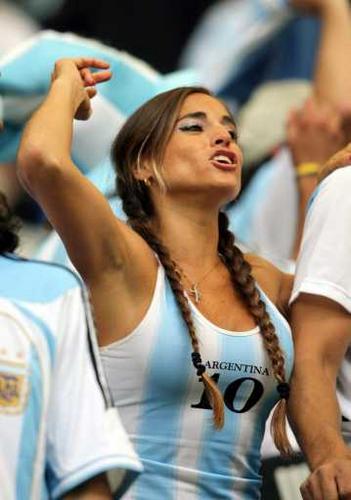 Brasil Fan Makes an Awesome Topless in FIFA World Cup