Better than any other cellphone plan money can buy … Unlimited Blowtime 24/7 Anywhwere and Everywhere and the best part is – No Contract Ever
Unidentified Couple Thinks Subway Stop is an OK Place For Blowjob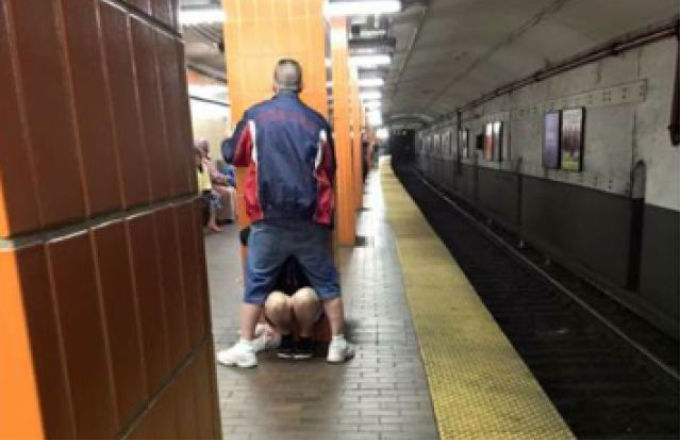 There are a lot of rules about what you should and should not do on the subway, but this is probably breaking the biggest rule of all. Last Friday, an
MBTA
passenger took this photo of a man receiving a blowjob on the platform of a subway stop, the
Boston Metro News
reports.
Chasty Ballesteros – GirlHouse

The apparent couple is unidentified, but that didn't stop the passenger who snapped this photo from sending it to the MBTA and complaining:
"Dear MBTA, I understand you are having financial problems and it is difficult to maintain a broken system, however my tax dollars should be going to pay your police force because I shouldn't have to stand next to a man receiving oral sex," wrote the irate passenger.
What a reasonable guy. Turns out the MBTA agrees with him.
Emily Ratajkowski
"We're not going to tolerate this," said Transit Police Lieutenant Richard Sullivan. "In my 20 years on the job I've very rarely encountered something as brazen as this."
"In my opinion they could care less who happened by," said Sullivan. "More importantly, what if a young child came by?"
Elizabeth Olsen topless in Martha Marcy May Marlene

If the riders are identified, they face open and gross lewdness charges, and will have to appear before the state's sex offender registry board.
Sullivan would like to remind MBTA riders to report crimes directly to the transit police via their See Say app, and not via social media. This has been your daily reminder to never tweet.
Tenille Houston – The Canyons
Caroline Laurence – Goodbye Emmanuelle